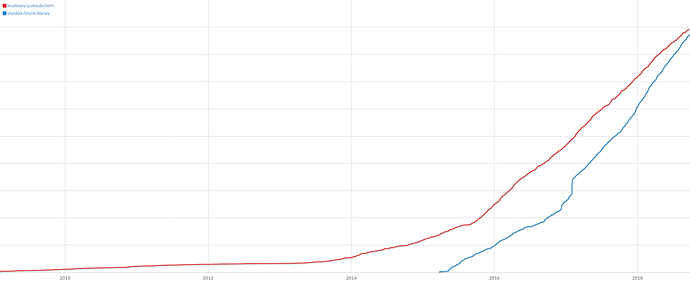 Blue line represents Blynk library rating on github.

Red is the most popular MQTT library for Arduino.
When we started creating Blynk, there was no adequate MQTT implementations for Arduino. Besides that, we investigated MQTT 3.1.1 and found that it didn't fit our requirements. So we made a decision to create our own protocol.
But we're now waiting for MQTT 5! Good to see that MQTT is getting a lot of features, that we're enjoying at Blynk for 4+ years already


Maybe, we'll switch to MQTT in the end.


But it is not for sure, cause it looks like MQTT 5 got bloated so much, it now reminds me of HTTP/2

.
In my opinion, it may result in either "heavy" protocol implementations, or interoperability issues.
What do you think?
You can find an overview of MQTT 5 here: https://vernemq.com/blog/2018/06/18/is-mqttv5-worth-the-trouble.html
and here: https://dzone.com/articles/mqtt-v5-what-is-on-the-way
The draft spec: http://docs.oasis-open.org/mqtt/mqtt/v5.0/cs02/mqtt-v5.0-cs02.html
If you like Blynk, and forgot to give us a github star - it's high time! Thanks


https://github.com/blynkkk/blynk-library