this is my alphanumeric keyboard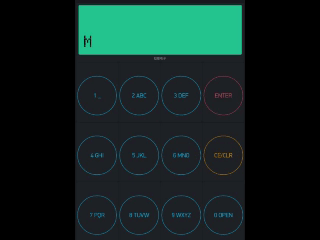 retro style

like in the 3210 era…
nice coding exercise, by the way!
I'm amazed, that actually your every touch sends a message to

and gets it delivered back. And you don't even see a lag.
Isn't it pure magic?

Next comes predictive text insertion and all the resulting hilarity

there is no lag
no flood
no disconnection
and it's not used to write a text no more to play angry bird with Gunner.



it's only an alarm keyboard , like all alarm keyboard.
but thank you so much for your support, indeed.
I'm amazed to read such comments !





Indeed Very good!
Is it possible to share your code with us?
the only guy interested in my job



thanks you !
I will share my code soon
I will make others laugh, for sure !




I hope it is not a simple terminal to IDE Serial monitor redirect, with a trained monkey on the PC keyboard at the other end doing all the "logic"

no terminal, no keyboard, no predictive text
just Blynk , timers , flags and a lot of hard work !