Hey everyone!
I've been working on a small project regarding off-grid solar. Specifically a EPSolar Tracer 2210A, an RS485 module and an ESP mini.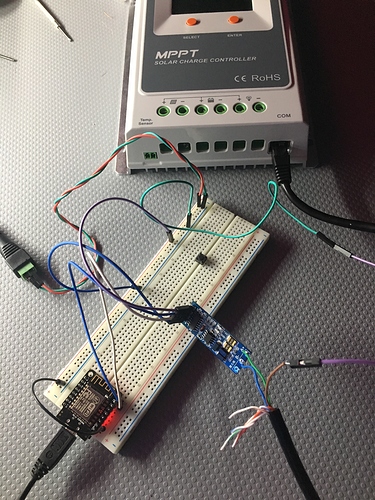 The COM port is RS-485 half-duplex communication. There is PC software and also a small remote controller called an MT-50. There is also a Branded Wifi module you can buy which will let you run the software on a remote computer. Still not really good enough for someone like myself who would rather have the info in their pocket.
So…
I've taken an old ethernet cable with RJ-45 connector and split out the RS485-A/B/Ground according to the Tracer A-series Modbus documentation.
I borrowed some starting code from the only person on the internet who documented anything to do with the Tracer A-series (RS-485) communication and Arduino. After reaching out he gave me his working code. From there it only took 2 hours to convert it to Blynk.
Its only very basic, but it works.
Some things I wasn't told…
You can only read the Modbus register ever 500ms… It took a long time to find a way to cycle through just 2 registers but I got it working by cycling to the next function every 500ms.
The code is below. Its still a major work in progress but maybe someone out there would want to develop with me. Just make a pull request on Github.
Lots of 0.000's because I only have a battery hooked up.