#7 !! NodeJS !! - Pan & Tilt Servo control with Joystick for Raspberry Pi using NodeJS
And now for something different… here is some simple javascript code for using the joystick widget with a couple servos on an RPi for use with a pan and tilt base. More NodeJS stuff here

Hook up your two servos with 5v, GND and GPIO pins 22 & 23 .
I recommend a dedicated 5v supply and remember to share the GND with the RPi.
Joystick Widget set for vPin 22 & 23 (to match the GPIO just for hookup convenience, they can be any other vPins) and whatever range settings work best for your servos.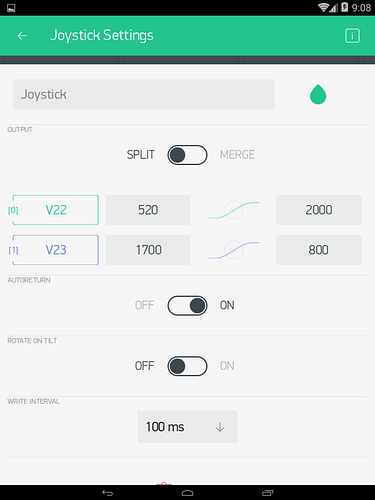 const Gpio = require('pigpio').Gpio;
const PAN_PORT = 22;
const TILT_PORT = 23;
const pan = new Gpio(PAN_PORT, {mode: Gpio.OUTPUT});
const tilt = new Gpio(TILT_PORT, {mode: Gpio.OUTPUT});
const Blynk = require('blynk-library');  // Links variable 'Blynk' to the Blynk Library

const AUTH = 'xxxxxxxxxx';

// ----- Use this with Cloud Server.
//  var blynk = new Blynk.Blynk(AUTH, options = { connector : new Blynk.TcpClient()  });

// ----- Use this with Local Server.
var blynk = new Blynk.Blynk(AUTH, options = { connector : new Blynk.TcpClient( options = { addr: "xxx.xxx.xxx.xxx", port: 8080 } ) });

var JoyX = new blynk.VirtualPin(22);  // Setup Joystick X on V22
var JoyY = new blynk.VirtualPin(23);  // Setup Joystick Y on V23

JoyX.on('write', function(panValue) {  // Watches for Joystick X
  pan.servoWrite(panValue);  // Set Servo to value
});

JoyY.on('write', function(tiltValue) {  // Watches for Joystick y
  tilt.servoWrite(tiltValue);  // Set Servo to value
});