Is there anything wrong with my code?
I have already tested bluetooth communication using another code on arduino and its working. I can send strings to a test app called "s2 Terminal for Bluetooth". I also receive the strings typed in this app in my serial monitor. So I confident to say that the problem is not in the hardware and wires connections.
I also have tested the hardware measuring temperature and voltage. Its working and displays the results correctly. The problem is when I try to merge both.

/* Comment this out to disable prints and save space */
#define BLYNK_PRINT Serial
#include <SoftwareSerial.h>
#include <BlynkSimpleSerialBLE.h>
#include <SoftwareSerial.h>


// You should get Auth Token in the Blynk App.
// Go to the Project Settings (nut icon).
char auth[] = "3473f8737181435c96f0f379817e96c8";

/*
The simplest TMP 36 Thermometer
*/
const int analogIn = A4;

int RawValue= 0;
double Voltage = 0;
double tempC = 0;
double tempF = 0;
BlynkTimer timer;



void setup(){  
 Serial.begin(9600);
 Blynk.begin(Serial3, auth); //I'm using pins 15 and 14 for RX and TX

  Serial.println("Waiting for connections...");
  timer.setInterval(1000L, myTimerEvent);
  
}

void myTimerEvent()
{


  RawValue = analogRead(analogIn);
  Voltage = (RawValue / 1023.0) * 5000; // 5000 to get millivots.
  tempC = (Voltage-500) * 0.1; // 500 is the offset
  tempF = (tempC * 1.8) + 32; // conver to F  
  Serial.print("Raw Value = " );  // shows pre-scaled value                    
  Serial.print(RawValue);      
  Serial.print("\t milli volts = "); // shows the voltage measured     
  Serial.print(Voltage,0); //
  Serial.print("\t Temperature in C = ");
  Serial.print(tempC,1);
  Serial.print("\t Temperature in F = ");
  Serial.println(tempF,1);
  // You can send any value at any time.
  // Please don't send more that 10 values per second.
  Blynk.virtualWrite(V5,  Voltage);
}

void loop(){

  Blynk.run();
  timer.run();
  
}

Serial Monitor: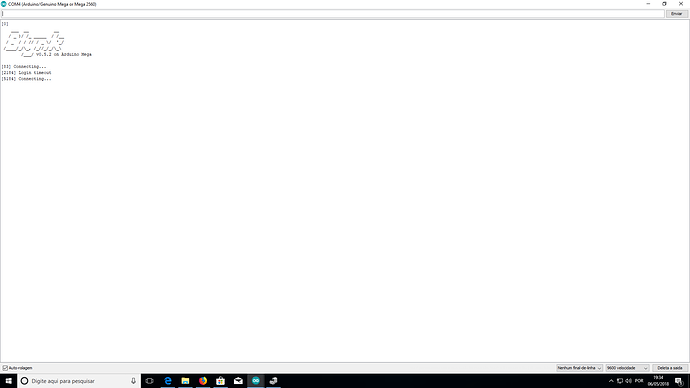 Configuration of bluetooth and data stream - blynk