Hello everyone,
I'm developing a project where I want to control my shutters with the Blynk app. At home, every shutter motor has a receiver on 433 MHz. I have a remote (sender) with 20 channels, only 8 of them are used right now.
I made a receiver with the XLC-RF-5V module for Arduino to catch the code my shutter remote sends to the shutters. I found out the codes the old fashion way by reading the analog output of the receiver and reading the high and low signal lengths. Then, I wrote a code to send that same signal again with my sender module (FS1000A). When I use my function transmitCode (see code below) in setup() with the code for one channel, it works. But now, I integrated this code into the Blynk code, but it doesn't seem to work.
The idea with the blynk app is that I have a selection widget with 9 options and below, I have 3 buttons: one for making a shutter go up, one to make it go down and one to make it stop. According to which option is selected from the widget, those 3 buttons have a different function (they send the code for up, down or stop from the selected shutter).
Can anyone explain why this code works if I put "transmitCode(kanaal_1_op);" in the setup() but doesn't work when called in the Blynk.write() function?
Thanks in advance!
Alexander
My app: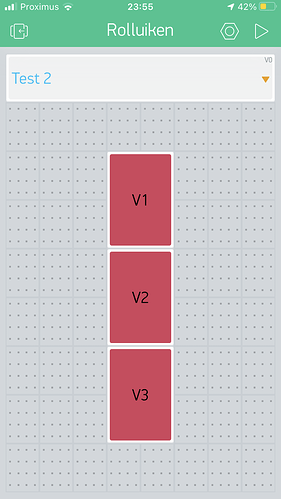 My code:
/*
  Transmit sketch - RF Calibration
     Written by ScottC 17 July 2014
     Arduino IDE version 1.0.5
     Website: http://arduinobasics.blogspot.com.au/2014/07/433-mhz-rf-module-with-arduino-tutorial.html
     Transmitter: FS1000A/XY-FST
     Description: A simple sketch used to calibrate RF transmission.
  ------------------------------------------------------------- */
//433 MHz:
#define rfTransmitPin 51  //RF Transmitter pin = digital pin 22
#define ledPin 13        //Onboard LED = digital pin 13

//Blynk:
#define BLYNK_PRINT Serial
#include <SPI.h>
#include <Ethernet2.h>
#include <BlynkSimpleEthernet2.h>
char auth[] = "6k530qBs2SLxqQge4cb4lXu57xuyzwhd";

//basis van code (vast deel): {15,5,5,2,2,2,5,2,2,2,5,2,2,2,2,2,2,2,2,5,5,2,2,5,2,2,2,2,2}

const int codeSize = 41;      //lengte van de code (aantal posities in de arrays hieronder)
int codeToTransmit[codeSize]; //The array used to hold the RF code
int kanaal_0_op[] = {15, 5, 5, 2, 2, 2, 5, 2, 2, 2, 5, 2, 2, 2, 2, 2, 2, 2, 2, 5, 5, 2, 2, 5, 2, 2, 2, 2, 2, 2, 2, 2, 2, 2, 2, 2, 5, 2, 2, 2, 8}; //Code voor kanaal 1 op
int kanaal_0_neer[] = {15, 5, 5, 2, 2, 2, 5, 2, 2, 2, 5, 2, 2, 2, 2, 2, 2, 2, 2, 5, 5, 2, 2, 5, 2, 2, 2, 2, 2, 2, 2, 2, 2, 2, 2, 5, 5, 2, 2, 5, 8}; //Code voor kanaal 1 neer
int kanaal_0_stop[] = {15, 5, 5, 2, 2, 2, 5, 2, 2, 2, 5, 2, 2, 2, 2, 2, 2, 2, 2, 5, 5, 2, 2, 5, 2, 2, 2, 2, 2, 2, 2, 2, 2, 2, 5, 2, 5, 2, 5, 2, 8}; //Code voor kanaal 1 stop
int kanaal_1_op[] = {15, 5, 5, 2, 2, 2, 5, 2, 2, 2, 5, 2, 2, 2, 2, 2, 2, 2, 2, 5, 5, 2, 2, 5, 2, 2, 2, 2, 2, 2, 2, 2, 5, 2, 2, 2, 5, 2, 2, 2, 8}; //Code voor kanaal 1 op
int kanaal_1_neer[] = {15, 5, 5, 2, 2, 2, 5, 2, 2, 2, 5, 2, 2, 2, 2, 2, 2, 2, 2, 5, 5, 2, 2, 5, 2, 2, 2, 2, 2, 2, 2, 2, 5, 2, 2, 5, 5, 2, 2, 5, 8}; //Code voor kanaal 1 neer
int kanaal_1_stop[] = {15, 5, 5, 2, 2, 2, 5, 2, 2, 2, 5, 2, 2, 2, 2, 2, 2, 2, 2, 5, 5, 2, 2, 5, 2, 2, 2, 2, 2, 2, 2, 2, 5, 2, 5, 2, 5, 2, 5, 2, 8}; //Code voor kanaal 1 stop
int kanaal_2_op[] = {15, 5, 5, 2, 2, 2, 5, 2, 2, 2, 5, 2, 2, 2, 2, 2, 2, 2, 2, 5, 5, 2, 2, 5, 2, 2, 2, 2, 2, 2, 2, 5, 2, 2, 2, 2, 5, 2, 2, 2, 8};
int kanaal_2_neer[] = {15, 5, 5, 2, 2, 2, 5, 2, 2, 2, 5, 2, 2, 2, 2, 2, 2, 2, 2, 5, 5, 2, 2, 5, 2, 2, 2, 2, 2, 2, 2, 5, 2, 2, 2, 5, 5, 2, 2, 5, 8};
int kanaal_2_stop[] = {15, 5, 5, 2, 2, 2, 5, 2, 2, 2, 5, 2, 2, 2, 2, 2, 2, 2, 2, 5, 5, 2, 2, 5, 2, 2, 2, 2, 2, 2, 2, 5, 2, 2, 5, 2, 5, 2, 5, 2, 8};
int kanaal_3_op[] = {15, 5, 5, 2, 2, 2, 5, 2, 2, 2, 5, 2, 2, 2, 2, 2, 2, 2, 2, 5, 5, 2, 2, 5, 2, 2, 2, 2, 2, 2, 2, 5, 5, 2, 2, 2, 5, 2, 2, 2, 8};
int kanaal_3_neer[] = {15, 5, 5, 2, 2, 2, 5, 2, 2, 2, 5, 2, 2, 2, 2, 2, 2, 2, 2, 5, 5, 2, 2, 5, 2, 2, 2, 2, 2, 2, 2, 5, 5, 2, 2, 5, 5, 2, 2, 5, 8};
int kanaal_3_stop[] = {15, 5, 5, 2, 2, 2, 5, 2, 2, 2, 5, 2, 2, 2, 2, 2, 2, 2, 2, 5, 5, 2, 2, 5, 2, 2, 2, 2, 2, 2, 2, 5, 5, 2, 5, 2, 5, 2, 5, 2, 8};
int kanaal_4_op[] = {15, 5, 5, 2, 2, 2, 5, 2, 2, 2, 5, 2, 2, 2, 2, 2, 2, 2, 2, 5, 5, 2, 2, 5, 2, 2, 2, 2, 2, 2, 5, 2, 2, 2, 2, 2, 5, 2, 2, 2, 8};
int kanaal_4_neer[] = {15, 5, 5, 2, 2, 2, 5, 2, 2, 2, 5, 2, 2, 2, 2, 2, 2, 2, 2, 5, 5, 2, 2, 5, 2, 2, 2, 2, 2, 2, 5, 2, 2, 2, 2, 5, 5, 2, 2, 5, 8};
int kanaal_4_stop[] = {15, 5, 5, 2, 2, 2, 5, 2, 2, 2, 5, 2, 2, 2, 2, 2, 2, 2, 2, 5, 5, 2, 2, 5, 2, 2, 2, 2, 2, 2, 5, 2, 2, 2, 5, 2, 5, 2, 5, 2, 8};
int kanaal_5_op[] = {15, 5, 5, 2, 2, 2, 5, 2, 2, 2, 5, 2, 2, 2, 2, 2, 2, 2, 2, 5, 5, 2, 2, 5, 2, 2, 2, 2, 2, 2, 5, 2, 5, 2, 2, 2, 5, 2, 2, 2, 8};
int kanaal_5_neer[] = {15, 5, 5, 2, 2, 2, 5, 2, 2, 2, 5, 2, 2, 2, 2, 2, 2, 2, 2, 5, 5, 2, 2, 5, 2, 2, 2, 2, 2, 2, 5, 2, 5, 2, 2, 5, 5, 2, 2, 5, 8};
int kanaal_5_stop[] = {15, 5, 5, 2, 2, 2, 5, 2, 2, 2, 5, 2, 2, 2, 2, 2, 2, 2, 2, 5, 5, 2, 2, 5, 2, 2, 2, 2, 2, 2, 5, 2, 5, 2, 5, 2, 5, 2, 5, 2, 8};
int kanaal_6_op[] = {15, 5, 5, 2, 2, 2, 5, 2, 2, 2, 5, 2, 2, 2, 2, 2, 2, 2, 2, 5, 5, 2, 2, 5, 2, 2, 2, 2, 2, 2, 5, 5, 2, 2, 2, 2, 5, 2, 2, 2, 8};
int kanaal_6_neer[] = {15, 5, 5, 2, 2, 2, 5, 2, 2, 2, 5, 2, 2, 2, 2, 2, 2, 2, 2, 5, 5, 2, 2, 5, 2, 2, 2, 2, 2, 2, 5, 5, 2, 2, 2, 5, 5, 2, 2, 5, 8};
int kanaal_6_stop[] = {15, 5, 5, 2, 2, 2, 5, 2, 2, 2, 5, 2, 2, 2, 2, 2, 2, 2, 2, 5, 5, 2, 2, 5, 2, 2, 2, 2, 2, 2, 5, 5, 2, 2, 5, 2, 5, 2, 5, 2, 8};
int kanaal_7_op[] = {15, 5, 5, 2, 2, 2, 5, 2, 2, 2, 5, 2, 2, 2, 2, 2, 2, 2, 2, 5, 5, 2, 2, 5, 2, 2, 2, 2, 2, 2, 5, 5, 5, 2, 2, 2, 5, 2, 2, 2, 8};
int kanaal_7_neer[] = {15, 5, 5, 2, 2, 2, 5, 2, 2, 2, 5, 2, 2, 2, 2, 2, 2, 2, 2, 5, 5, 2, 2, 5, 2, 2, 2, 2, 2, 2, 5, 5, 5, 2, 2, 5, 5, 2, 2, 5, 8};
int kanaal_7_stop[] = {15, 5, 5, 2, 2, 2, 5, 2, 2, 2, 5, 2, 2, 2, 2, 2, 2, 2, 2, 5, 5, 2, 2, 5, 2, 2, 2, 2, 2, 2, 5, 5, 5, 2, 5, 2, 5, 2, 5, 2, 8};
int kanaal_8_op[] = {15, 5, 5, 2, 2, 2, 5, 2, 2, 2, 5, 2, 2, 2, 2, 2, 2, 2, 2, 5, 5, 2, 2, 5, 2, 2, 2, 2, 2, 5, 2, 2, 2, 2, 2, 2, 5, 2, 2, 2, 8};
int kanaal_8_neer[] = {15, 5, 5, 2, 2, 2, 5, 2, 2, 2, 5, 2, 2, 2, 2, 2, 2, 2, 2, 5, 5, 2, 2, 5, 2, 2, 2, 2, 2, 5, 2, 2, 2, 2, 2, 5, 5, 2, 2, 5, 8};
int kanaal_8_stop[] = {15, 5, 5, 2, 2, 2, 5, 2, 2, 2, 5, 2, 2, 2, 2, 2, 2, 2, 2, 5, 5, 2, 2, 5, 2, 2, 2, 2, 2, 5, 2, 2, 2, 2, 5, 2, 5, 2, 5, 2, 8};

int kanaal_test1_op[] = {15, 5, 15, 15, 2, 2, 5, 2, 2, 2, 5, 2, 2, 2, 2, 2, 2, 2, 2, 5, 5, 2, 2, 5, 2, 2, 2, 2, 2, 2, 2, 2, 5, 2, 2, 2, 5, 2, 2, 2, 8}; //Code voor kanaal 1 op
int kanaal_test1_neer[] = {15, 5, 15, 15, 2, 2, 5, 2, 2, 2, 5, 2, 2, 2, 2, 2, 2, 2, 2, 5, 5, 2, 2, 5, 2, 2, 2, 2, 2, 2, 2, 2, 5, 2, 2, 5, 5, 2, 2, 5, 8}; //Code voor kanaal 1 neer
int kanaal_test1_stop[] = {15, 5, 15, 15, 2, 2, 5, 2, 2, 2, 5, 2, 2, 2, 2, 2, 2, 2, 2, 5, 5, 2, 2, 5, 2, 2, 2, 2, 2, 2, 2, 2, 5, 2, 5, 2, 5, 2, 5, 2, 8}; //Code voor kanaal 1 stop
int kanaal_test2_op[] = {15, 5, 15, 15, 2, 2, 5, 2, 2, 2, 5, 2, 2, 2, 2, 2, 2, 2, 2, 5, 5, 2, 2, 5, 2, 2, 2, 2, 2, 2, 2, 5, 2, 2, 2, 2, 5, 2, 2, 2, 6};
int kanaal_test2_neer[] = {15, 5, 15, 15, 2, 2, 5, 2, 2, 2, 5, 2, 2, 2, 2, 2, 2, 2, 2, 5, 5, 2, 2, 5, 2, 2, 2, 2, 2, 2, 2, 5, 2, 2, 2, 5, 5, 2, 2, 5, 6};
int kanaal_test2_stop[] = {15, 5, 15, 15, 2, 2, 5, 2, 2, 2, 5, 2, 2, 2, 2, 2, 2, 2, 2, 5, 5, 2, 2, 5, 2, 2, 2, 2, 2, 2, 2, 5, 2, 2, 5, 2, 5, 2, 5, 2, 6};


int codeToggler = 0;  //Used to switch between turning the light ON and OFF
int timeDelay = 115;    // The variable used to calibrate the RF signal lengths. Delay = tussen 95-125 voor rolluiksturing

int geselecteerdOp[codeSize];
int geselecteerdNeer[codeSize];
int geselecteerdStop[codeSize];

void setup() {
  Serial.begin(9600);        // Turn the Serial Protocol ON
  pinMode(rfTransmitPin, OUTPUT);   //Transmit pin is an output
  pinMode(ledPin, OUTPUT);

  delay(2000);

  Blynk.begin(auth);
  Blynk.virtualWrite(V1, 0);
  Blynk.virtualWrite(V2, 0);
  Blynk.virtualWrite(V3, 0);

}



void loop() {

  Blynk.run();

}

/*----------------------------------------------------------------
  BLYNK CODE
  ------------------------------------------------------------------*/

BLYNK_WRITE(V0) {
  Blynk.virtualWrite(V1, 0);
  Blynk.virtualWrite(V2, 0);
  Blynk.virtualWrite(V3, 0);


  switch (param.asInt())
  {
    case 1: // Alles
      equalArray(geselecteerdOp, kanaal_1_op);
      equalArray(geselecteerdNeer, kanaal_1_neer);
      equalArray(geselecteerdStop, kanaal_1_stop);
      Serial.println("Alles geselecteerd");
      break;
    case 2: // Keuken klein
      equalArray(geselecteerdOp, kanaal_2_op);
      equalArray(geselecteerdNeer, kanaal_2_neer);
      equalArray(geselecteerdStop, kanaal_2_stop);
      Serial.println("Keuken klein geselecteerd");
      break;
    case 3: // Keuken groot
      equalArray(geselecteerdOp, kanaal_2_op);
      equalArray(geselecteerdNeer, kanaal_2_neer);
      equalArray(geselecteerdStop, kanaal_2_stop);
      Serial.println("Keuken groot geselecteerd");
      break;
    case 4: // Keuken hoek
      equalArray(geselecteerdOp, kanaal_3_op);
      equalArray(geselecteerdNeer, kanaal_3_neer);
      equalArray(geselecteerdStop, kanaal_3_stop);
      Serial.println("Keuken hoek geselecteerd");
      break;
    case 5: // Living achter
      equalArray(geselecteerdOp, kanaal_4_op);
      equalArray(geselecteerdNeer, kanaal_4_neer);
      equalArray(geselecteerdStop, kanaal_4_stop);
      Serial.println("Living achter geselecteerd");
      break;
    case 6: // Living achter klein
      //equalArray(geselecteerdOp,kanaal_5_op);
      //equalArray(geselecteerdNeer,kanaal_5_neer);
      //equalArray(geselecteerdStop,kanaal_5_stop);
      Serial.println("Living achter klein geselecteerd");
      break;
    case 7: // Living klein
      equalArray(geselecteerdOp, kanaal_6_op);
      equalArray(geselecteerdNeer, kanaal_6_neer);
      equalArray(geselecteerdStop, kanaal_6_stop);
      Serial.println("Living klein geselecteerd");
      break;
    case 8: // Living voor klein
      equalArray(geselecteerdOp, kanaal_7_op);
      equalArray(geselecteerdNeer, kanaal_7_neer);
      equalArray(geselecteerdStop, kanaal_7_stop);
      Serial.println("Living voor klein geselecteerd");
      break;
    case 9: // Living voor
      equalArray(geselecteerdOp, kanaal_8_op);
      equalArray(geselecteerdNeer, kanaal_8_neer);
      equalArray(geselecteerdStop, kanaal_8_stop);
      Serial.println("Living voor geselecteerd");
      break;
    default:
      Serial.println("Niks geselecteerd");
  }
}

void equalArray(int teWijzigenArray[], int referentieArray[])
{
  for (int i = 0; i < 41; i++)
  {
    teWijzigenArray[i] = referentieArray[i];
  }
}

void printArray(int tePrintenArray[])
{
  Serial.print("Ingestelde Array: ");
  for (int i = 0; i < 41; i++)
  {
    Serial.print(tePrintenArray[i]);
    Serial.print(",");
  }
  Serial.println();
}


BLYNK_WRITE(V1)
{
  int value = param.asInt(); // Get value as integer
  if (value == 1)
  {
    transmitCode(geselecteerdOp);
    Serial.println("op");
  }




}

BLYNK_WRITE(V2)
{
  int value = param.asInt(); // Get value as integer
  if (value == 1)
  {
    transmitCode(geselecteerdStop);
    Serial.println("stop");
  }

}

BLYNK_WRITE(V3)
{
  int value = param.asInt(); // Get value as integer
  if (value == 1)
  {
    transmitCode(geselecteerdNeer);
    Serial.println("neer");
  }


}


/*-----------------------------------------------------------------
  433 MHz CODE
  -------------------------------------------------------------------*/

/*-----------------------------------------------------------------
  transmitCode(): Used to transmit the signal to the RF receiver on
                  the fan/light. There are 6 different HIGH-LOW signal combinations.

                  SH = short high   or  LH = long high
                                   PLUS
       SL = short low    or    LL = long low    or    VLL = very long low

  -------------------------------------------------------------------*/
void transmitCode(int code[]) {
  // The LED will be turned on to create a visual signal transmission indicator.
  digitalWrite(ledPin, HIGH);
  printArray(geselecteerdOp);
  printArray(geselecteerdNeer);
  printArray(geselecteerdStop);

  //initialise the variables
  int highLength = 0;
  int lowLength = 0;

  //The signal is transmitted 6 times in succession - this may vary with your remote.
  // 2-6-14-46
  for (int j = 0; j < 6; j++) {
    for (int i = 0; i < codeSize; i++) {
      switch (code[i]) {
        case 1: // SL + SH
          highLength = 2;
          lowLength = 2;
          break;
        case 2: // SL + MH
          highLength = 6;
          lowLength = 2;
          break;
        case 3: // SL + LH
          highLength = 14;
          lowLength = 2;
          break;
        case 4: // SL + VLH
          highLength = 38;
          lowLength = 2;
          break;
        case 5: // ML + SH
          highLength = 2;
          lowLength = 6;
          break;
        case 6: // ML + MH
          highLength = 6;
          lowLength = 6;
          break;
        case 7: // ML + LH
          highLength = 14;
          lowLength = 6;
          break;
        case 8: // ML + VLH
          highLength = 38;
          lowLength = 6;
          break;
        case 9: // LL + SH
          highLength = 2;
          lowLength = 14;
          break;
        case 10: // LL + MH
          highLength = 6;
          lowLength = 14;
          break;
        case 11: // LL + LH
          highLength = 14;
          lowLength = 14;
          break;
        case 12: // LL + VLH
          highLength = 38;
          lowLength = 14;
          break;
        case 13: // VLL + SH
          highLength = 2;
          lowLength = 46;
          break;
        case 14: // VLL + MH
          highLength = 6;
          lowLength = 46;
          break;
        case 15: // VLL + LH
          highLength = 14;
          lowLength = 46;
          break;
        case 16: // VLL + VLH
          highLength = 38;
          lowLength = 46;
          break;

      }

      /* Transmit a HIGH signal - the duration of transmission will be determined
         by the highLength and timeDelay variables */
      digitalWrite(rfTransmitPin, HIGH);
      delayMicroseconds(lowLength * timeDelay);  // was highLength

      /* Transmit a LOW signal - the duration of transmission will be determined
         by the lowLength and timeDelay variables */
      digitalWrite(rfTransmitPin, LOW);
      delayMicroseconds(highLength * timeDelay); // was lowLength
    }
  }
  //Turn the LED off after the code has been transmitted.
  digitalWrite(ledPin, LOW);
}