Hi,
I have a problem with the time input widget and I don't know where to start., I'm sure it's my problem because I didn't quite understand how it works.
I have 7 time input widgets and 7 numeric inputs to control the time interval on Mondays to Fridays 4 widgets and 3 widgets to control on weekends, as in the attached images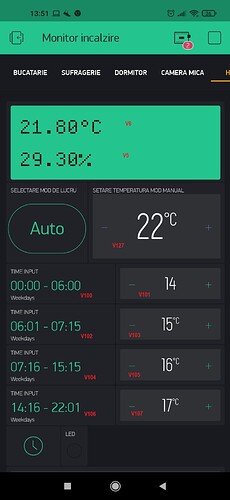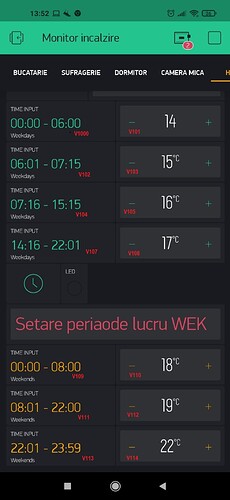 My problem is that if I have a time interval from Monday to Friday and I have the same interval in the weekend, it returns the data from the last widget, don't take into account that it is a weekend.
I certainly didn't quite understand how this widget works and that's why I need help.


#include <ESP8266WiFi.h>
#include <BlynkSimpleEsp8266.h>
#include <DHT.h>
#define DHTPIN 12          // What digital pin we're connected to

// Uncomment whatever type you're using!
//#define DHTTYPE DHT11     // DHT 11
#define DHTTYPE DHT22   // DHT 22, AM2302, AM2321
//#define DHTTYPE DHT21   // DHT 21, AM2301

DHT dht(DHTPIN, DHTTYPE);
BlynkTimer timer;

// You should get Auth Token in the Blynk App.
// Go to the Project Settings (nut icon).
char auth[] = "xxxxxxxxxx";
char ssid[] = "xxxxxxxxxxxx";
char pass[] = "xxxxxxxxx";


float t_101=0.00;
float t_103=0.00;
float t_105=0.00;
float t_107=0.00;
float t_109=0.00;
float t_111=0.00;
float t_127=0.00;
int ora_start;
const int rel_centr = 2;


BLYNK_WRITE(V101){
  t_101=param.asInt();
}
BLYNK_WRITE(V103){
  t_103=param.asInt();
}
BLYNK_WRITE(V105){
  t_105=param.asInt();
}
BLYNK_WRITE(V107){
  t_107=param.asInt();
}
BLYNK_WRITE(V109){
  t_109=param.asInt();
}
BLYNK_WRITE(V111){
  t_111=param.asInt();
}
BLYNK_WRITE(V113){
  t_113=param.asInt();
}


BLYNK_WRITE(V100) {
 TimeInputParam t(param);
  
  for (int i = 1; i <= 5; i++) {
    if (t.isWeekdaySelected(i)) {
  if (t.hasStartTime())
  {
  t_127=t_101;
 
  }
  // Process stop time
  if (t.hasStopTime())
  {
   
  }
    }
  }
 
}

BLYNK_WRITE(V102) {
 TimeInputParam t(param);
   for (int i = 1; i <= 5; i++) {
    if (t.isWeekdaySelected(i)) {
  if (t.hasStartTime())
  {
  t_127=t_103;
  }
  // Process stop time
  if (t.hasStopTime())
  {
   
  }
    }
  }
 
}

BLYNK_WRITE(V104) {
 TimeInputParam t(param);
  for (int i = 1; i <= 5; i++) {
    if (t.isWeekdaySelected(i)) {
  if (t.hasStartTime())
  {
  t_127=t_105;
  }
  // Process stop time
  if (t.hasStopTime())
  {
   
  }
    }
  }
 
}

BLYNK_WRITE(V106) {
 TimeInputParam t(param);
  for (int i = 1; i <= 5; i++) {
    if (t.isWeekdaySelected(i)) {
  if (t.hasStartTime())
  {
  t_127=t_107;
  }
  // Process stop time
  if (t.hasStopTime())
  {
   
  }
    }
  }
 
}

BLYNK_WRITE(V108) {
 TimeInputParam t(param);
  for (int i = 6; i <= 7; i++) {
    if (t.isWeekdaySelected(i)) {
  if (t.hasStartTime())
  {
  t_127=t_109;
  }
  // Process stop time
  if (t.hasStopTime())
  {
   
  }
    }
  }
 
}

BLYNK_WRITE(V110) {
 TimeInputParam t(param);
 for (int i = 6; i <= 7; i++) {
 
    if (t.isWeekdaySelected(i)) {
  if (t.hasStartTime())
  {
  t_127=t_111;
  }
  // Process stop time
  if (t.hasStopTime())
  {
   
  }
    }
  }
 
}





void sendSensor()
{
  float h = dht.readHumidity();
  float temp = dht.readTemperature(); // or dht.readTemperature(true) for Fahrenheit
 Blynk.syncAll();
  if (isnan(h) || isnan(temp)) {
    Serial.println("Failed to read from DHT sensor!");
    return;
  }
  // You can send any value at any time.
  // Please don't send more that 10 values per second.
  Blynk.virtualWrite(V5, h);
  Blynk.virtualWrite(V6, temp);
  Blynk.virtualWrite(V127,t_127);
  Blynk.virtualWrite(V99,"Setare periaode lucru WEKEWND");
  if (temp<=t_127-0.5)
    {
    digitalWrite(rel_centr,LOW);
  }
   else {
    digitalWrite(rel_centr,HIGH);
   }
  
  BLYNK_WRITE(V112) {
 TimeInputParam t(param);
 for (int i = 6; i <= 7; i++) {
 
    if (t.isWeekdaySelected(i)) {
  if (t.hasStartTime())
  {
  t_127=t_113;
  }
  // Process stop time
  if (t.hasStopTime())
  {
   
  }
    }
  }
 
}
       

  
}


void setup()
{
  // Debug console
  Serial.begin(9600);

  Blynk.begin(auth, ssid, pass);
  Blynk.connected();
  Blynk.syncAll();
  
   dht.begin();
  pinMode(rel_centr, OUTPUT);
  

  // Setup a function to be called every second
  timer.setInterval(2000L, sendSensor);

  
}

void loop()
{
  Blynk.run();
  timer.run();
}