Hi Blynk.
My Supercharts on Android look poor relative to the excellent rendering on iOS.
I use both Android and iOS devices with Blynk apps.
Android 13 on Google Pixel 6a
Android Blynk app v 1.13.1(145)
iOS on iPad 16.6.1
iOS Blynk app v 3.6.1 (0)
Blynk 1.3.2
Windows 11
Here are two screen shots of the same Blynk app. Full-screen mode is not much different.
Note
vertical axis positioning differences
red axis gone in Android
blue axis on RHS on Android, LHS on iOS
absent chart labeled "Hot Tub"
(yes, I measure the temp in my hot tub)
You may note other differences outside of the Supercharts.
What more info can I supply? Not sure code would be helpful here.
Thanks in advance.
Excellent iPad image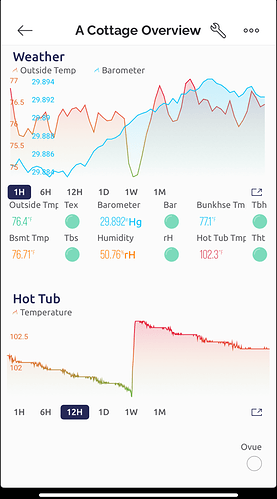 Not so good Android image