not directly blynk related, but might be useful for other users, so i dare to publish here

in our house, some areas have very poor wifi signal, the sonoff or smartphones could not connect at all. i had to mount a sonoff in this area (kitchen), so i thought to try to extend its wifi range by installing an external antenna. it was easier than i thought, and the end result was high above my expectations…
the sonoff th10 / th16 / pow pcb has already the footprint and possibility to solder external UFL antenna connector
to use the sma pads, just desolder the cap, turn 90 degree clockwise and solder.
i've bought these antennas at ali (these are the cheapest ones, with relatively low dbm gain)
unfortunately, i didn't had the corresponding smd UFL connector, so i just cut the coax cable on my antenna, and soldered directly to the signal and gnd pads.
after soldering, to relieve the stress on the coax cable, i fixed with hot glue to the pcb. then just drilled a hole on the plastic case, tightened the screws, and the mod was ready for testing.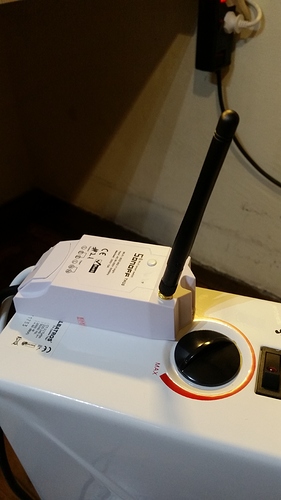 i didn't do any professional tests, just placed a standard sonoff (with pcb antenna) and the other one (with external antenna) near each other, and pushed the dbm signal values to the phone every second.
the external antenna showed in average a 8 dbm stronger signal! -90 vs -82 dbm. considering that every 3 dbm doubles the signal power, i think this is a very good result.
the unit with the external antenna, managed to maintain a stable connection, versus the unit with pcb antenna dropped the connection quite often. and, as i mentioned, this is a relatively low gain antenna, there are much strongers on ali for some euros more.