• Hardware model: esp8266 nodemcu 3.0 and ESPWROOM32S - SERIAL AND WIFI CONEXION ON BLYNKEDGENT
• ANDROID 12 SMARTPHONE - WINDOWS 10-11 PC
• BLYNK SERVER
• LAST LIBRARY BLYNK VERSION
I need initial help, I have a project that I have been using with ESP8266, and it works well, but I want to start using it with ESP32, since I have run out of ports for sensors that I use and I have also read other good features that it has. The question is that I don't know which library the board I bought specifically uses and I don't know how to start BlynkEdgent (which of the options in the example to choose), I already know that I have to have the button pressed to load the script and I could load some. If you guide me I would appreciate it.
The board is an ESPWROOM32s v1.1 101010 211-10107 - SILABS CP2102 chip.
The libraries that appear when I load a link that I found in a forum are shown in this image: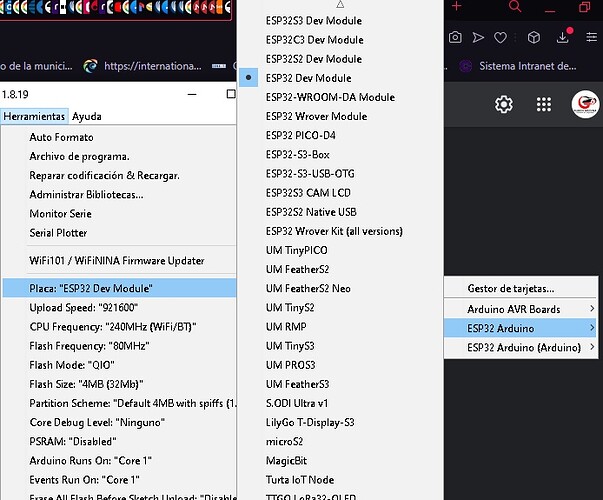 And then the option that is not chosen is the following:

// Uncomment your board, or configure a custom board in Settings.h
//#define USE_ESP32_DEV_MODULE
//#define USE_ESP32C3_DEV_MODULE
//#define USE_ESP32S2_DEV_KIT
//#define USE_WROVER_BOARD
//#define USE_TTGO_T7
//#define USE_TTGO_T_OI


The pin distribution is this:
FILE 1 - CLK-SD0-SD1-P15-P2-P0-P4-P16-P17-P5-P18-P19-GND-P21-RX-TX-P22-P23-GND
FILE 2 - 5V-CMD-SD3-SD2-P13-GND-P12-P14-P27-P26-P25-P33-P32-P36-P34-SVN-SVP-EN-3V3
I hope you can help me, thanks friends.