I don't use Blynk Notify very often, but my Node-Red flow that included a notification has stopped working at some point. Thinking that this may be a Node-Red issue, I've tried a standard Blynk test sketch and that's not working either.
I've also tried creating a new project and that doesn't help.
Settings:
Projects have Notification widget added
Blynk cloud server (Europe)
iPhone 6 and iPad running iOS 12.1.4
Blynk app versions:
iPhone 2.25.0 (3)
iPad 2.26.0 (2) (beta)
Blynk notification permissions set-up as shown in screenshot below: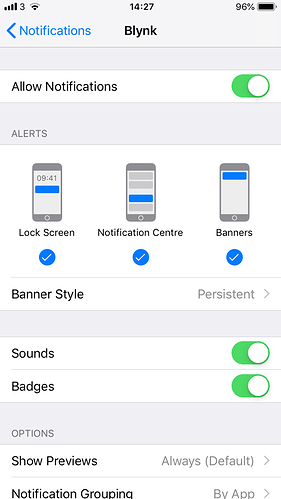 @Eugene - is this one for you?
Pete.