When I try to run an app I see the following message. It may be coincidence but this began after the recent Blynk server issues (2 or 3 weeks ago?).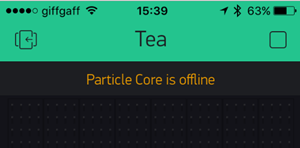 This is a simple application running for a couple of months trouble free. Using a Redbear Duo (see https://www.kickstarter.com/projects/1991736672/redbear-duo-a-small-and-powerful-wi-fi-ble-iot-boa/description for details) I created a bell application, that is, the Duo operates a servo from a single button in a Blynk app. I have recompiled this morning with the latest Blynk library (upgrading from 3.2 to 3.5) but it has made no difference.
The code can be see here: https://1drv.ms/u/s!Al4oDpCeXGBEjO4_xkFPmTiGjT32Sw
I would appreciate any pointers or suggestions to fix this.
Many thanks!