Hi everyone. I have a basic heating control project that formed 2 part. One of (master one) reading room temp and send it to other one (slave one) with nRF24. Master one managed with Ard. NANO, slave one managed with Ard. PRO MİNİ. slave one has also relay to control combi and has DS1302 RTC to scheduling.
I was chaged the slave one (PRO MİNİ) to Nodemcu. My first effort, "reading nRF24 signals with Nodemcu" was successful. But scheduling was not. I think I can use DS1302 module with Nodemcu but there is Blynk here, isnt it?

and its modules like "time input" or "RTC". I can use them…

can I?
My heating schedule like this;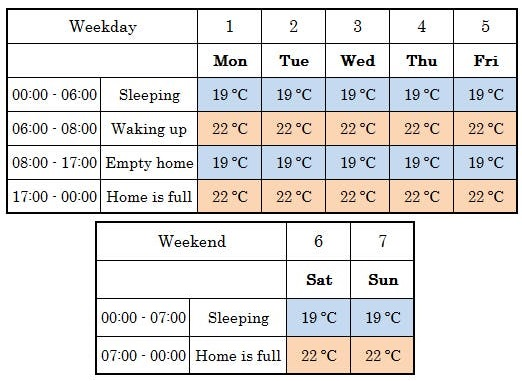 sheduling part of the code that running on PRO mini is:
     void loop()
    {
      time_function();
      while (myRTC.dayofweek < 6)
      {
        while (myRTC.hours < 6)
        {
          time_function();
          set_temp = 19;                        // set_temp combi to 19
          Serial.println("Weekdays");
          Serial.println("sleeping Mode");
        }
        while (myRTC.hours < 8)
        {
        time_function();
        set_temp = 22;
        Serial.println("Weekdays");
        Serial.println("wake up Mode");
        }
        while (myRTC.hours < 17)
        {
        time_function();
        set_temp = 19;
        Serial.println("Weekdays");
        Serial.println("Home is empty");
        }
        while (myRTC.hours >= 17)
        {
        time_function();
        set_temp = 22;
        Serial.println("Weekdays");
        Serial.println("People in the house");
        }
      }
  while (myRTC.dayofweek < 8)
  {
     while (myRTC.hours <= 7)
     {
      time_function();
      set_temp = 19;
      Serial.println("Weekend");
      Serial.println("sleeping Mode");
      }
      while (myRTC.hours > 7)
      {
      time_function();
      set_temp = 22;
      Serial.println("Weekend");
      Serial.println("People in the house");
      }
  }

You can see all project and codes from here: https://www.hackster.io/tsavascii/programmable-wireless-room-thermostat-bluetooth-accessible-8cd516
Actually my schedule only has two mode: one of set the target temp to 19C, other 22C. After that device listen to RF Channel and decide to run the combi "on" or stay it "off". So my questions are;
Is it possible to do this with Blynk time input?

If yes then how? Should I add two sperate time input module to my dashboard? or only one can my schedule?

Finally, Should I add a RTC module?

  1. The Blynk library version you are using.  **(0.4.6)**
  2. Android or iOS and the version of the OS. **(Android 5.0)**
  3. Server type, Local or Cloud based. **(Dont know i think Cloud)**
  4. If local server, which version you are using. **(?)**
  5. How you powering the MCU. **(with USB)**
  6. Has the MCU ever connected to a Blynk server (Cloud or local). **(yes)**
  7. The IDE you areusing, including the version number. **(Arduino 1.8.1)**
  8. The settings you have in the IDE for the MCU. **(NodeMCU 1.0 (ESP-12E Module)**
  9.The Arduino core version you are using. **(1.8.1 i think)**
 10. The make and model of your phone. **(Samsung Note 3)**

_
11.Your shoe size and anything else you think is important. **(43 EU) *

Thanks…