is it possible to move tabs widget from top to bottom?
I can't …

No, that got locked to the top sometime last year… too many issues I think, what with the added ability for vertical scrolling.
thank you, that's what I thought .
Except on iOS, where they're always at the bottom

Pete.
Hmm, neve noticed that it could still be moved in iOS, but I can still move it back to the top (where all good tabs should be anyhow) as long as there is space availed in all tab screens.
Text on some projects is pretty much unusable on my iPhone 4s… so I rarely try.
EDIT - but then same issue on new phone as well

but the tabs are at least readable.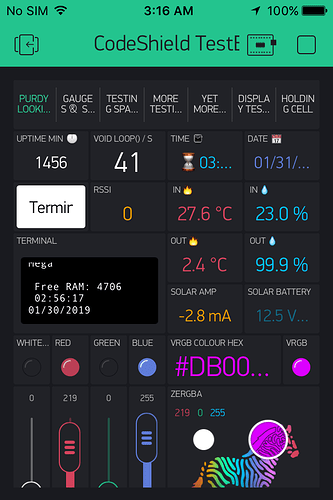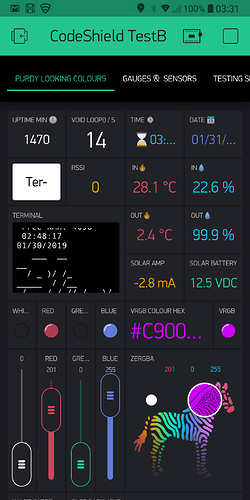 Won't be a case in a new iOS Blynk. Tabs widget placed not at the top is deprecated
Opps…moving the tab to the bottom, then pressing Play, also moved it also in my Android Apps… the VERY bottom!!
Only now I cannot move it back

EDIT - OK, OK, took some calming down and retrying… but got it back now… carry on, nothing to see here

I'd forgotten that it can be placed at the top, but it wouldn't move on the project where I tried it because there wasn't enough space on each of the tabs.
Bottom works best for me, as I can change tabs with my thumb without having to stretch up to the top of the screen, but looks like I'm going to have to do some thumb stretching exercises in future
@Eugene, will we be getting more than 4 tabs in the new Blynk iOS?

Pete.
I have 7 Tabs showing in my iOS? (image above) Of course I initially made the project in Android.
But it looks like I can still add more even from iOS?? I am running the beta, so perhaps that?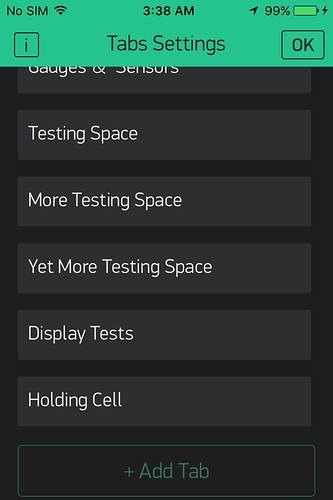 I'm running the latest iOS beta (2.25.0 (2)) and can only add 4 tabs. After that the + Add Tab Button is disabled.
But good news that it will be possible soon

Pete.