Hi Blynkers,
I'm trying to set up a Master/Slave relationship between two devices using same template.
What I need to achieve is that some of the setup virtual pins on the master device have to be replicated on the slave device.
As I undertand, all this can be configured on the web console.
I tried with one datastream of the device. The widget is a slider, and the slider value in master have to be "copied" to the same slider on the slave.
This is my Automation set up: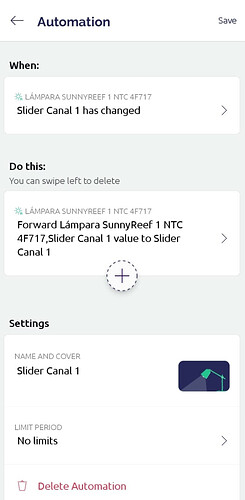 As I understand, If I change the value of the Slider Canal 1 on the Master Device, its value will be copied to the Slider Canal 1 on the Slave device.
But that doesn't happen.
Sometimes it change the value on the slave but no to the same of the Master, and usually doesn't chane anything.
Can anyone confirm that my set up is correct or wrong?