Just another simple Blynk controlled LED project.
It is a 1.5 meter, 90 element, RGB LED strip (waterproofed), mounted to an angled aluminum extrusion that happens to clip perfectly over the solar panel frame. Then covered with white hurricane tape for a mild diffuser effect.
It is powered from the 12v batteries (stepped down to 5v) that are charged via the panels. The Wemos D1 Mini can be remotely (using Blynk) turned on and off, or change colours and patterns. And completely remotely programmable (OTA).
Now I just need to swap out for a smaller ESP8266 that can tuck inside the extrusion & thus be fully weather proofed.
EDIT - Brain momentarily activated… since I already have a Wemos running my solar monitor, I can just have it run dual duty and control the LED strip as well… just run three wires (instead of the existing USB extension cable) for 5v,GND and data.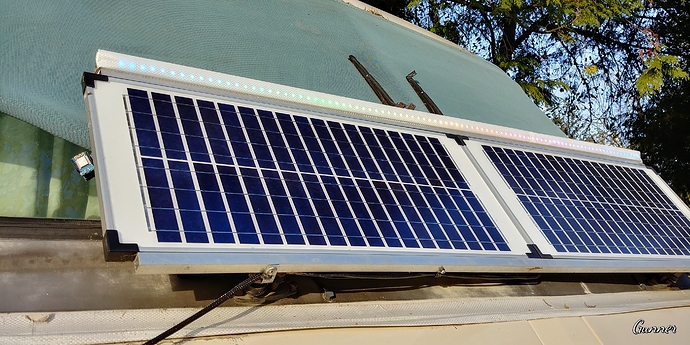 I actually have plans (dreams?) of mounting a selection of ultrasonic sensors along the bottom of the panels… and have the scanner "eye" track anyone walking in front of the motorhome.
Aside from the programming challenge… weatherproofing the sensors will be tricky, although I might simply mount them inside the grillwork instead… but then range is a possible issue.