Hi @vshymanskyy I have a project where I'd like to use Blynk.Air as a way to update an ESP32 TTGO T-Call board connected via GSM.
I'm a bit lost about where to start integrating TinyGSM into the ESP32 Edgent example sketch, and was wondering if you had any Edgent GSM examples in the pipeline before I went any further?
I guess you might get a few others asking the same thing, as the Blynk website currently says…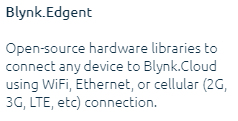 Thanks in advance!
Pete.