Hi,
I just added a new device (ESP32 dev board) to my mobile Blynk IoT app, on my Pixel 6. Was working fine for a few minutes. I could see when I flick a physical switch that a relay turned on, this caused an LED symbol to light up on the Blynk App, as expected. The device was communicating with the cloud. All good. This is the third device in my account (I can have up to 40 with my subscription). Suddenly when I open the Blynk IoT app the third device icon was completely gone. Just dissapeared. Below is a screenshot of the app main page. It shows the first two devices (GreenhouseNet and GarageDoor), but the third one, which was located on the second row, left, is gone.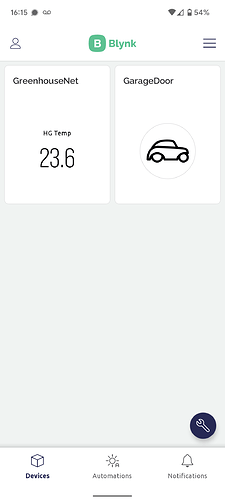 However, when I navigate to edit by clicking the tool on the right, then I can clearly see the device (called DeckLED) and the widgets I had already placed. Below is a screenshot of this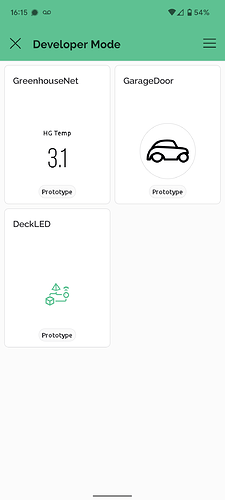 I've tried restarting the app, as well as my phone. No luck. My device seems to still be Online and it does work (there is a physical switch that controls a relay. When I turn the switch the relay functions… so the ESP32 dev board seems to be working well). Other than deleting the device completely and readding it, is there something I can do to bring back the device on the main page?