hey guys, we are pretty close on completing our Home monitoring project using WiFi and GSM. But we encounter a problem with our connections thru the WiFi. It seems that when I use the blynk cloud server, my project disconnects, but when I use my local blynk server which I set up couple of months ago the project seems to work fine eliminating probable hardware problems (since the projects works perfectly with our local server).
Here's a look at my serial monitor and my code using online server: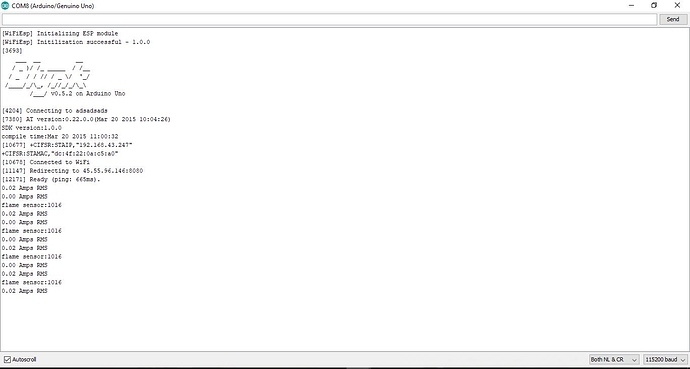 It stops and disconnects after about a minute or two. thanks for any help!
#define BLYNK_PRINT Serial

#include "WiFiEsp.h"

#include <ESP8266_Lib.h>
#include <BlynkSimpleShieldEsp8266.h>
#include <DHT.h>

char auth[] = "xxxxxxxxxxxxxxxxxxxxxxxxxxxx";

char ssid[] = "adsadsads";
char pass[] = "adsadsads";


#include <SoftwareSerial.h>
SoftwareSerial EspSerial(2, 3); // RX, TX
#define ESP8266_BAUD 9600

ESP8266 wifi(&EspSerial);

#define DHTPIN 4
#define DHTTYPE DHT22   
const int flamepin=A2;
const int threshold=200;// sets threshold value for flame sensor
int flamesensvalue=0; // initialize flamesensor reading
int mVperAmp = 100; // use 100 for 20A Module and 66 for 30A Module
double Voltage1 = 0;
double VRMS1 = 0;
double AmpsRMS1 = 0;
double Voltage2 = 0;
double VRMS2 = 0;
double AmpsRMS2 = 0;
double Voltage = 0;
double VRMS = 0;
double AmpsRMS = 0;
double kWh = 0;
int RMSPower = 0;
int peakPower = 0;
double kWh1 = 0;
int RMSPower1 = 0;
int peakPower1 = 0;
double kWh2 = 0;
int RMSPower2 = 0;
int peakPower2 = 0;

void current1() {
 Voltage1 = getVPP1();
 VRMS1 = (Voltage1/2.0) *0.707; 
 AmpsRMS1 = (((VRMS1* 1000)/mVperAmp)-.05);
 Serial.print(AmpsRMS1);
 Serial.println(" Amps RMS");
 Blynk.virtualWrite(V13, AmpsRMS1);
 pinMode(0, INPUT);

RMSPower1 = 220*AmpsRMS1;
if (RMSPower1 > peakPower1)
{
  peakPower1 = RMSPower1 ;
}

kWh1 = kWh1 + (RMSPower1*(.004/3600));
Blynk.virtualWrite(V0, kWh1);

}


 
 

void current2() {
 Voltage2 = getVPP2();
 VRMS2 = (Voltage2/2.0) *0.707; 
 AmpsRMS2 = (((VRMS2 * 1000)/mVperAmp)-.05);
 Serial.print(AmpsRMS2);
Serial.println(" Amps RMS");
 Blynk.virtualWrite(V14, AmpsRMS2);
 pinMode(1, INPUT);

RMSPower2 = 220*AmpsRMS2;
if (RMSPower2 > peakPower2)
{
  peakPower2 = RMSPower2 ;
}

kWh2 = kWh2 + (RMSPower2*(.004/3600));
Blynk.virtualWrite(V1, kWh2);

}


void flame ()
{
  flamesensvalue=analogRead(flamepin);// reads analog data from flame sensor
 Serial.print("flame sensor:");
 
  pinMode(2,INPUT);
  Serial.println(flamesensvalue);
   Blynk.virtualWrite(V4, flamesensvalue);
}

DHT dht(DHTPIN, DHTTYPE);
BlynkTimer timer;

void sendSensor()
{
  float h = dht.readHumidity();
  float t = dht.readTemperature(); // or dht.readTemperature(true) for Fahrenheit

  if (isnan(h) || isnan(t)) {
    Serial.println("Failed to read from DHT sensor!");
    return;
  }
 
 // Blynk.virtualWrite(V5, h);
  Blynk.virtualWrite(V6, t);
}

void setup()
{

  Serial.begin(115200);
  EspSerial.begin(ESP8266_BAUD);
  delay(10);
  WiFi.init(&EspSerial);

  Blynk.begin(auth, wifi, ssid, pass);

  dht.begin();
  
timer.setInterval(3000L, flame);
timer.setInterval(1000L, current1);
timer.setInterval(1000L, current2);
timer.setInterval(2000L, sendSensor);
}

void loop()
{
  Blynk.run();
  timer.run();
}



float getVPP1()
{
  float result1;
  
  int readValue;           
  int maxValue = 0;         
  int minValue = 1024;        
  
   uint32_t start_time = millis();
   while((millis()-start_time) < 1000) //sample for 1 Sec
   {
       readValue = analogRead(0);
       // see if you have a new maxValue
       if (readValue > maxValue) 
       {

           maxValue = readValue;
       }
       if (readValue < minValue) 
       {

           minValue = readValue;
       }
   }
   
   // Subtract min from max
   result1 = ((maxValue - minValue) * 5.0)/1024.0;

   return result1;
 }

float getVPP2()
{
  float result2;
  
  int readValue;           
  int maxValue = 0;         
  int minValue = 1024;        
  
   uint32_t start_time = millis();
   while((millis()-start_time) < 1000) //sample for 1 Sec
   {
       readValue = analogRead(1);
       // see if you have a new maxValue
       if (readValue > maxValue) 
       {

           maxValue = readValue;
       }
       if (readValue < minValue) 
       {

           minValue = readValue;
       }
   }
   
   // Subtract min from max
   result2 = ((maxValue - minValue) * 5.0)/1024.0;

   return result2;
 }