Has anyone experienced connection issues when using the new Blynk 2.0 system with an Arduino Uno and Ethernet shield. Or does anyone have a suggestion for resolving/debugging the issue below?
Details
• Hardware: Arduino UNO with Ethernet Shield 2 (W5500) I've also tried with an Arduino Leonardo with no luck.
• Blynk server: The new blynk.cloud system
• Blynk Library version: v1.0.0-beta.3
When running my code, I get the following output. It looks like the device is unable to connect. It just repeatedly attempts connection and never enters the loop() function.
[1182] Getting IP...
[4137] IP:192.168.1.14
[4137] 
    ___  __          __
   / _ )/ /_ _____  / /__
  / _  / / // / _ \/  '_/
 /____/_/\_, /_//_/_/\_\
        /___/ v1.0.0-beta.3 on Arduino Leonardo

[4143] Connecting to blynk.cloud:80
[36288] Connecting to blynk.cloud:80
[68433] Connecting to blynk.cloud:80


#define BLYNK_DEBUG true
#define BLYNK_PRINT Serial
#define BLYNK_TEMPLATE_ID   "TMPLps8AZeup"
#define BLYNK_DEVICE_NAME "Darros Cistern Link"

#include <SPI.h>
#include <Ethernet2.h>
#include <BlynkSimpleEthernet2.h>


char auth[] = "--------------QewP";


void setup()
{
  while (!Serial) {
    ; // wait for serial port to connect. Needed for native USB
  }
  
  // Debug console
  Serial.begin(9600);

//Blynk.begin(auth,"blynk.cloud", 8080);
  Blynk.begin(auth);



}

void loop()
{
  Blynk.run();
}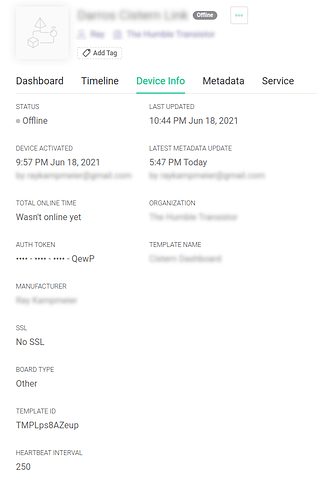 -Ray