This is the new library, adding to the current Blynk_WiFiManager. It's designed to help you eliminate hardcoding your Blynk credentials in Mega/UNO/Nano boards using with Ethernet board (W5100, W5200, W5500, etc). It's currently not supporting SSL because there is not enough memory in Mega, UNO, Nano boards. You can update Blynk Credentials any time you need to change via Configure Portal. Data are saved in configurable locations in EEPROM.
So, how it works?
If no valid config data are stored in EEPROM, it will switch to Configuration Mode. Connect to access point at the IP address displayed on Terminal or Router's DHCP server as in the following picture: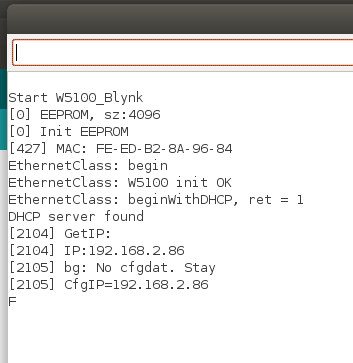 After you connected to, for example, 192.168.2.86, the Browser will display the following picture: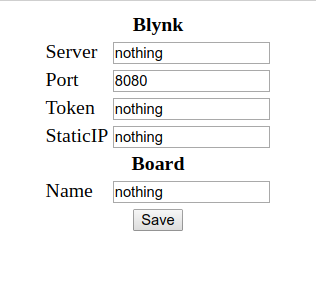 Enter your credentials (Blynk Server and Port). If you prefer static IP, input it (for example 192.168.2.79) in the corresponding field. Otherwise, just leave it blank or nothing.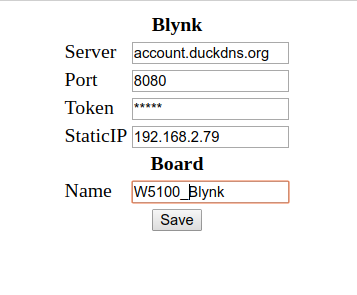 Then click Save. After the board auto-restarted, you will see if it's connected to your Blynk server successfully as in the following picture: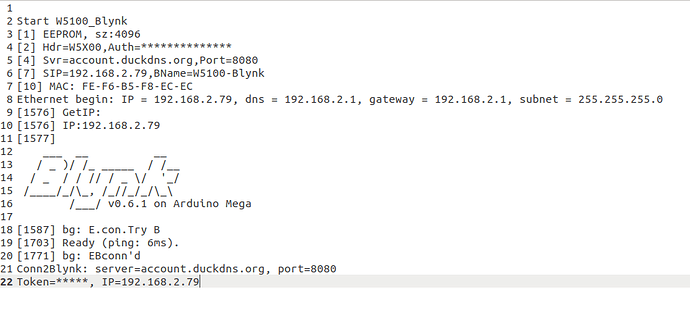 Updated: Jan 17th 2020
BlynkEthernet_Manager libraries v1.0.4 just got included into Arduino Library Manager.
Now you can install this library directly from Arduino Library Manager.

Updated: Jan 18th 2020
Included in Platform.io
Update Jan 27th 2020
BlynkEthernet_Manager library version v1.0.5
New in Version v1.0.5
Change Synch XMLHttpRequest to Async to avoid "InvalidAccessError" DOMException (https://xhr.spec.whatwg.org/) which prevents displaying Configuration Webpage in recent WebBrowers' version.
Reduce code size. Use dynamically allocated WebServer so that memory is only used when config portal is requested.