Hey,
there might be a discussion already here somewhere, but I could not find it.
I have 2 issues with the superchart.
#1:
Whenever I scroll through the data on the superchart, it does not scroll smoothly at the first use.
Instead it "snaps"/jumps far to the left…
After that, scrolling is smooth and perfect as is should be.
Here is a video for demonstration:
Can this be avoided?
#2:
In the week view of the supercharts, there are some days missing
Check here the portrait view of "Tägliche Regenmenge":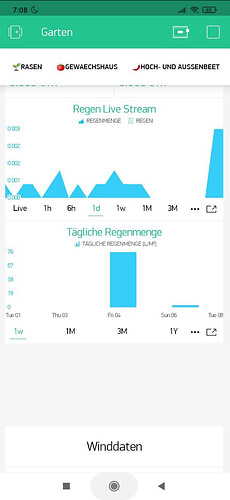 There are 5 days listed (tuesday, thursday, friday, sunday, tuesday).
These are not equal to the bar charts that are beeing shown - they are shifted.
Also some its weird that this is shown:
tuesday [yes], wednesday [no], thursday [yes], friday [yes], saturday [no], sunday [yes], monday [no], thursday [yes].
I dont see any pattern, why some days are missing.
Now in landscape mode, there is also one day missing: the sunday.
Looks like blynk is also taking a day off like god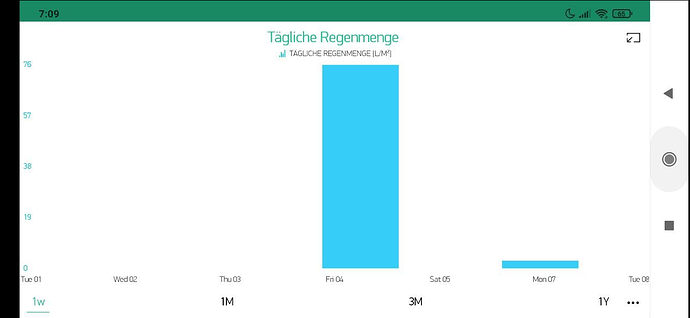 So what is the reason for this, what is going on here and how can I prevent this?
Thanks a lot!