I have installed blynk cloud on google cloud,
I am able to open the admin page with the ip:9443/admin,
At the same time I am able to connect the server to my mobile and I am able to create the project.
But I am not able to connect my hardware to blynk server on my google cloud. Below I have provided the code what I have used and screenshot of the serial monitor output.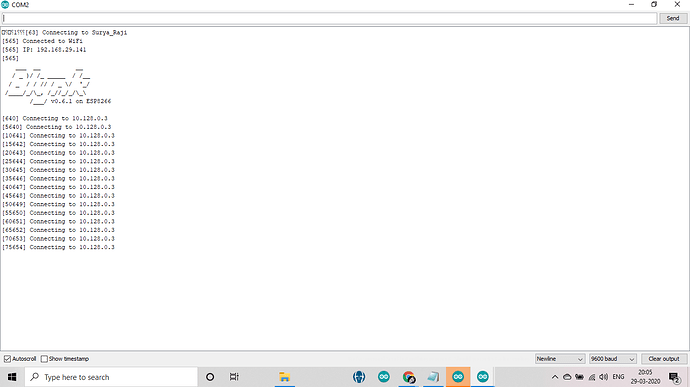 #define BLYNK_PRINT Serial
#include <ESP8266WiFi.h>
#include <BlynkSimpleEsp8266.h>
char auth[] = "Ywd90VpvhA_IxcL8u2iYKhhaMzQhAdzP";
char ssid[] = "Surya_Raji";
char pass[] = "9908910330";
void setup()
{
// Debug console
Serial.begin(9600);
Blynk.begin(auth, ssid, pass, IPAddress(10,128,0,3),9443);
}
void loop()
{
Blynk.run();
}