Hi there!
I have a issue with my project, blynk disconnect in long term like is running well between 1-4 days. After that i need to reset manual the arduino to get conneted to blynk.
NOTE: Arduino is controlling well the humidity without connected to blynk.
This project is a humidity controller for grow mushrooms.
Items List:
Arduino Uno
Relay module
Ethernet Shield
Sensor Shield v5 (to have better wiring for sensors)
2 DHT22 Sensors
I use two sensors, one is just for reading and the other is for controlling humidity. The first sensor is wired 12m and the other 16m from the arduino. I use a electrovalve to control the water that goes in to mist system to reach humidity levels.
This code is based in @chrome1000 "ESP8266 HVAC control" project.
thanks for the support!
and sorry for my bad grammar !

Blink dashboard:
Incubacion = Incubation room Temperature (red one)
Incubacion= Incubation room Humidity (green one)
Frutificacion= grow room Temperature(yellow one)
Seleccionar humedad deseada= Select desired humidity (Slider)
Humedad Frutificacion= grow room Humidity
Humedad Deseada= Selected Humidity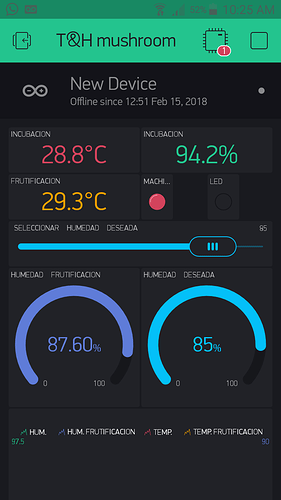 include <SPI.h>
#define BLYNK_PRINT Serial   
#include <Ethernet.h>
#include <BlynkSimpleEthernet.h>
#include <SimpleTimer.h>
#include <DHT.h>



char auth[] = "token";

SimpleTimer timer;

#define DHTPIN 5
#define DHTPIN1 3     
#define DHTTYPE DHT22
#define DHTTYPE1 DHT22
#define RelayPin 7
#define RelayPin2 8

DHT dht(DHTPIN, DHTTYPE);
DHT dht1(DHTPIN1, DHTTYPE1);

int HumDes = 85;
int PreviousHumDes = 85;
int HumAct = dht.readHumidity();
int HumCorrection = 0;
int UpdateFrequency = 5000L; 
float LastRead;

int Hysteresis = 2;

boolean FirstRead = true;
WidgetLED led1(V2);

void setup() 
{
  dht.begin();
  delay(2250);
  dht1.begin(); 
  delay(2250);

  pinMode(RelayPin,OUTPUT);
  digitalWrite(RelayPin,HIGH);
  
  pinMode(RelayPin2,OUTPUT);
  digitalWrite(RelayPin2,HIGH);
   
  Serial.begin(9600);
  delay(10);
  Blynk.begin(auth);
  Serial.println("Startup");
  Serial.println("");
  Serial.print("IP = ");
  Serial.println(Ethernet.localIP());
  
  timer.setInterval(UpdateFrequency, HumUpdate);
  
}

BLYNK_WRITE(V3){
  HumDes = param.asInt();
  Blynk.virtualWrite(V1,HumDes);
}


void HumUpdate()
{
{
  float ReadH = dht.readHumidity();
  float t = dht.readTemperature(); 
  float h1 = dht1.readHumidity();
  float t1 = dht1.readTemperature();
    
  Blynk.virtualWrite(V6, t);
  Blynk.virtualWrite(V7, h1);
  Blynk.virtualWrite(V8, t1);
    
  if (isnan(ReadH)) {
    Serial.println(F("Failed to read from DHT sensor!"));
    return;
    }
    
  if (FirstRead == true){
    HumAct = (int)(ReadH + HumCorrection);
    FirstRead = false;
    Serial.print("First humidiy reading (corrected): ");
    Serial.println(HumAct);
    LastRead = ReadH;
    return;   
  }
    
  else   { 
    int HumAvg = (int)((ReadH + LastRead + (2 * HumCorrection))/2);
    if (HumAvg >= HumAct + 1){
      HumAct = HumAct + 1;
    }
    if (HumAvg <= HumAct - 1){
      HumAct = HumAct -1;
    }

    LastRead = ReadH;
  }
  Blynk.virtualWrite(V0,ReadH); 
  Serial.print("Actual Humidity (corrected): ");
  Serial.println(HumAct);
    
    if (HumAct < HumDes){
      digitalWrite(RelayPin,LOW);
      led1.on();
      }
 
    else if (HumAct >= (HumDes + Hysteresis)) {
    digitalWrite(RelayPin,HIGH);
    led1.off();
    }
 
}
}

void loop() 
{
  Blynk.run();
  timer.run();
  Ethernet.maintain();
}