Hi
I have tried my Arduino Yun as well as a Arduino Leonardo with the Dragino Yun board and both give me the same result.
I have a TP-Link MR-3020 wireless router that has a cellular modem plugged in and connected to the internet - in fact I am typing thios on my laptop which is also connected to the TP-Link router by wireless so the internet connection is working. I have also checked in the TP-Link router DHCP client list and the Yun is there and I can navigate to the Yun page so it is obviously connected also.
I have tried the Yun example with the WIFI connection, copied in my Auth token and uploaded the sketch. In the monitor I get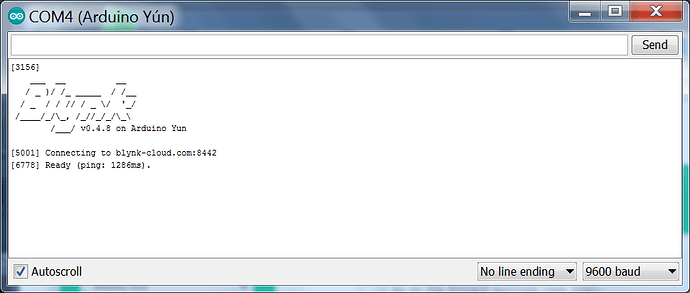 Does this mean it is connected? It hasn't provided the IP address as in your example.
Also I am using an Iphone SE6 and cannot seem to be able to add widgets, I have followed your instruction and can create Projects(devices) and add Tags but cannot figure out how to add widgets?
Thanks
George