• Arduion UNO with USB
• Android
• Blynk server
• Blynk Library 0.5.1
First, I used my Arduino Yun to connect Blynk and all things was ok. Since a MFRC522 module was used and I found Arduino Yun cannot dirve this RFID module, which goes well with Arduino UNO. Then I chose UNO instead of Yun. However, I don't have other shield and USB is the only choice.
I just use the example program for test as the example video shows, but the device is showed "offline" in the app.
Here is my code

#include <SoftwareSerial.h>
SoftwareSerial DebugSerial(2, 3); // RX, TX
#define BLYNK_PRINT DebugSerial
#include <BlynkSimpleStream.h>

// You should get Auth Token in the Blynk App.
// Go to the Project Settings (nut icon).
char auth[] = "802b7f2d1cc84f25ba85c474c4fe61ff";


void setup()
{
  // Debug console
  DebugSerial.begin(9600);


  Serial.begin(9600);
  Blynk.begin(Serial, auth);
}

void loop()
{
  Blynk.run();
}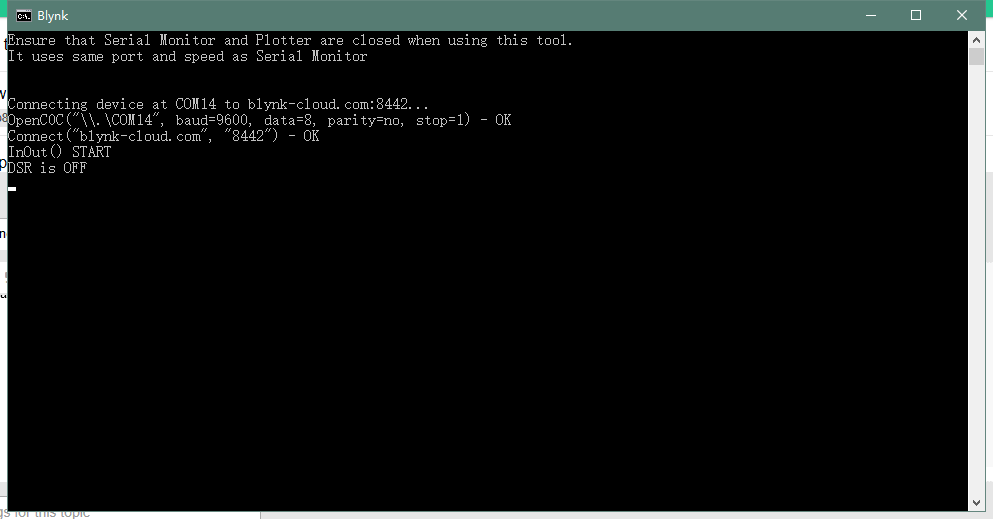 maybe it's a common problem… and I try many solution that others success…
I really need help…thx…