Hi, this is my first time trying to get a local Blynk Server (0.36.5) running on my home network, and I am having problems. I have an Arduino Due+ESP-WROOM-02U. When I use the cloud Blynk sever, everything works fine, and I can communicate using the Blynk app on my iPhone X.
I am using Windows 10. I have installed Java10.
My iPhone is running Blynk version 2.20.0(3).
And I installed server-0.36.5.jar.
In a command prompt, I give the command java -jar server-0.36.5.jar -dataFolder server_data & , and I get the response "Blynk Server 0.36.5 successfully started."
On my phone, I am able to log in the server using port 9443.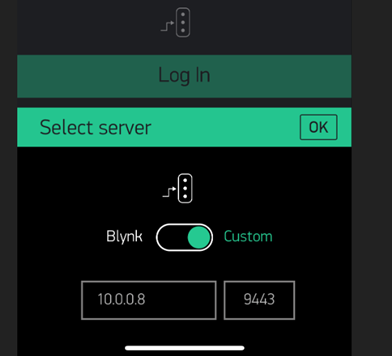 In the Arduino code, I included the Auth Token associated with the new Blynk project on my phone, and I rechecked the Auth Token three times.
I have Blynk libraries v0.5.2
My Blink.begin code looks like this:
      //Blynk.begin(auth, wifi, ssid, pass);
      // You can also specify server:
      //Blynk.begin(auth, wifi, ssid, pass, "blynk-cloud.com", 8442);
      //Blynk.begin(auth, wifi, ssid, pass, IPAddress(10,0,0,1));
      Blynk.begin(auth, wifi, ssid, pass, "10,0,0,8", 8080);

When I run the code on the Arduino, this is what I see in the Serial Monitor:
[12] 
    ___  __          __
   / _ )/ /_ _____  / /__
  / _  / / // / _ \/  '_/
 /____/_/\_, /_//_/_/\_\
        /___/ v0.4.10 on Arduino Due

    [513] Connecting to HOME-0012
    [3557] AT version:1.1.0.0(May 11 2016 18:09:56)
    SDK version:1.5.4(baaeaebb)
    Ai-Thinker Technology Co. Ltd.
    Jun 13 2016 11:29:20
    OK
    [8614] +CIFSR:STAIP,"10.0.0.26"
    +CIFSR:STAMAC,"dc:4f:22:04:db:42"
    [8614] Connected to WiFi 

On my phone, the name of my project is ServerDueLED.
I see the message "ServerDueLED is offline":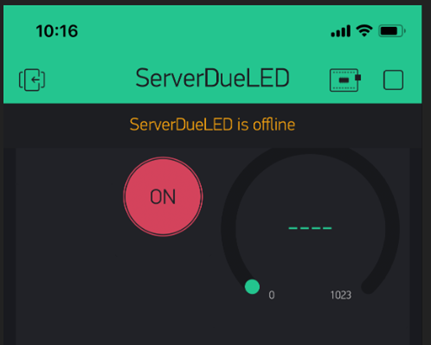 What are the likely causes for me to see this "… offline" message?