Hello!
So far, in my "Growing Plant System" project, I've managed to display all the data from my sensors on my Blynk app. Now, I want to go a step further and add a button that will control a relay.
More exactly, I want to get a notification from my app when the value of my soil moisture sensor has fallen under a threshold, so I can know when to go and activate my water pump using a button inside the app or the web
What do I need to do in Blynk.Console datastream / events.
What I did :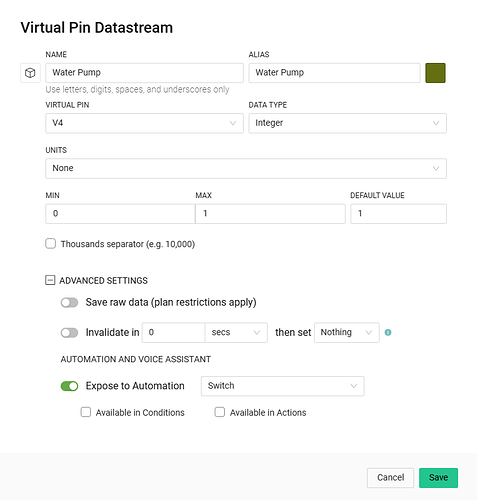 What I need to do in my code.
What I have so far:
void setup()

{

  Serial.begin(9600);

  display.begin(SSD1306_SWITCHCAPVCC, 0x3C); //initializare OLED cu adresa 0x3C

  display.clearDisplay();

  BlynkEdgent.begin();

  pinMode(DHTPin, INPUT);

  pinMode(SoilPin, OUTPUT);

  dht.begin();

}

void loop()

{

  BlynkEdgent.run();

  get_water_level();

  get_temperature();

  get_humidity();

  get_soil_humidity();

}

void get_water_level()

{

  if (millis() - sonic_counter > sonic_interval) // once every 2 sec

  {

    sonic_counter += sonic_interval;

    duration = sonar.ping_median(10);

    distance = (duration / 2) * 0.0343;

    if (distance >= 400 || distance <= 2)

    {

      //Serial.println("Out of range");

    }

    percent = constrain((map(distance, 12, 2, 0, 100)), 0, 100);

    Blynk.virtualWrite(V0, percent);

  }

}

void get_temperature()

{

  if (millis() - temperature_count > temperature_interval) // every 3secs

  {

    temperature_count += temperature_interval;

    t = dht.readTemperature();

    if (isnan(t)) // look into this

    {

      //Serial.println(F("Failed to read from DHT sensor!"));

    }

    Blynk.virtualWrite(V1, t);

  }

}

void get_humidity()

{

  if (millis() - humidity_count > humidity_interval) // every 3 secs

  {

    humidity_count += humidity_interval;

    h = dht.readHumidity();

    if (isnan(h)) // look into this

    {

      //Serial.println(F("Failed to read from DHT sensor!"));

    }

     Blynk.virtualWrite(V2,h);

  }

}

void get_soil_humidity()

{

  if (millis() - soil_humidity_count > soil_humidity_interval) // every 2 secs

  {

    soil_humidity_count += soil_humidity_interval;

    soilMoistureValue = analogRead(SoilPin);

    soilmoisturepercent = constrain((map(soilMoistureValue, AirValue, WaterValue, 0, 100)), 0, 100);

    Blynk.virtualWrite(V3, soilmoisturepercent);

  }

}