Dear @thorathome
Just to warn

you to spare some time to test new release soon

These features are done and tested OK
Config Portal title, either
Hostname defined in defines.h and configurable such as Master-Controller, or
BoardName got via ConfigPortal, or
default undistinguishable names.
Configurable pre-loaded default Config Portal values, including dynamic parameters. You can select either to load default pre-defined Credentials or "blank"
Examples are redesigned to separate Credentials / Defines / Code so that you can change Credentials quickly for each device.
A real test screen to show Title and all the default Credentials are loaded onto Config Portal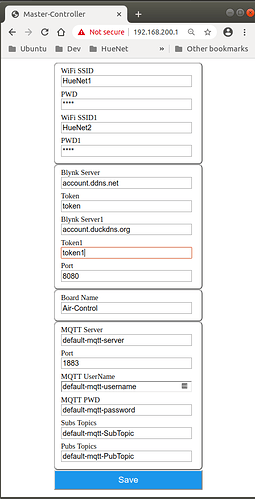 Will add
DoubleResetDetector to force starting ConfigPortal. DONE.
Update README. Can you help write and update this?
What else do you think?
Your contribution will be noted in v1.0.13 (lucky number for me)
Will post v1.0.13 within today.