Hello!
I have two Wemos D1 Minis with attached DHT22 sensors which sends temperature and humidity to my Blynk app.
One of the D1 stops sending data after some time - the code is identical. So I decided to add a "timestamp" for each D1 Mini by sending the actual time to a virtual pin - if this time does not change, the sensor stopped working.
The problem: The RTC time starts with 1970 and nevers syncs. I already tried different codes and even the example code shows "1970"…
Do you have a solution? I am on holiday now and wanted to leave the sensors in the holiday home to control the temperature…
Attached also a screenshot of my Blynk app: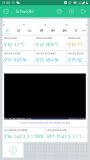 Many thanks in advance!
#define BLYNK_PRINT Serial    // Comment this out to disable prints and save space
#include <ESP8266WiFi.h>
#include <BlynkSimpleEsp8266.h>
#include <SimpleTimer.h>
#include <TimeLib.h>
#include <WidgetRTC.h>
#include <DHT.h>
#define DHTPIN 4 //pin gpio 12 in sensor
#define DHTTYPE DHT22   // DHT 22 Change this if you have a DHT11
DHT dht(DHTPIN, DHTTYPE);

char auth[] = "4Llxxxxxxxxxxxxxxx";  // Put your Auth Token here. (see Step 3 above)

SimpleTimer timer;

WidgetRTC rtc;

void setup()
{
  Serial.begin(9600); // See the connection status in Serial Monitor
  
  dht.begin();
  rtc.begin();
  
  Blynk.begin(auth, "WSHxxxxx", "maxxxxxxxxxxx"); //insert here your SSID and password

  Blynk.syncAll();

  setSyncInterval(60000);
 
  // Setup a function to be called every second
  timer.setInterval(60000L, sendUptime);  // Update alle 60 Sekunden
}

void sendUptime()
{
  
  float h = dht.readHumidity();
  float t = dht.readTemperature();

  String currentTime = String(hour()) + ":" + minute() + ":" + second() + ", ";
  String currentDate = String(day()) + "." + month() + "." + year();
  
  Blynk.virtualWrite(16, currentTime, currentDate);

  Blynk.virtualWrite(12, t); // virtual pin
  Blynk.virtualWrite(13, h); // virtual pin
   
}

void loop()
{
  Blynk.run();
  timer.run();
}