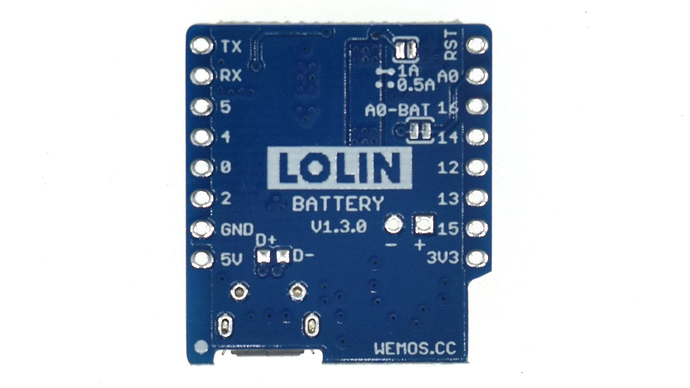 The two sets of pads up near the top right hand corner of the photo above , near the RST pin are the output current jumper.
If these contacts are open (as in the photo) then the output current will be 0.5A
If they are bridges with a blob of solder then the current will be 1A
There's a little graphic screen-printed on there to illustrate this.
The contacts below that link A0 to the battery if bridges with a blob of solder.
Deep sleep puts the Wemos to sleep, so that only the internal clock is running. Think of it as hibernation mode. When it's asleep, no code can execute and it can't talk to Blynk.
You tell it how long to sleep for (it will depend on how often you want temperature and humidity readings - maybe every hour?) then it wakes-up after that time and reboots the Wemos.
Your code will then be setup to take some readings, send them to Blynk, then go back to sleep again.
Depending on your sensors and how quickly your device can connect to Wi-Fi and Blynk, your Wemos could be awake for as little as 5 seconds every time it wakes up.
Power consumption in sleep mode is a fraction of that in wake mode.
Pete.