Friends., I'm new to this subject , I did research a bit and made some plans for my project. One plan was to obtain the current value using current sensor Acs712 , and simulated it well using proteus simulation software using virtual LCD and arduino UNO . I realized the same could be done practically without using LCD by introducing blynk app .
Board: ARDUINO UNO
Shield : hc 05 Bluetooth module
Blynk app widget : super chart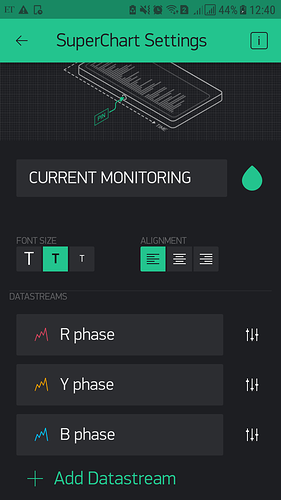 I used the online blynk coder site for getting code for "PUSH" data to virtual pin . And I did get a code for serial printing current value on serial monitor without using blynk . I tried to combine both !
My logic - (without blynk) Arduino reads A0 and does some calculation and serial prints current value I required . Variable "ecurrent" is the one giving the result .
I wish to send the " ecurrent " to virtual pin V0 which then comes to super chart , (this is the part I'm kind of confused about , since I don't know where I should interlink variable "ecurrent " to Pin V0 . Below program code lacks that part .
Also ecurrent is only one variable , like wise 2 more ecurrent will be calculated . So what is the thing missing in my code ??
#define BLYNK_PRINT Serial 

#include <SoftwareSerial.h> 

SoftwareSerial SwSerial(10, 11); //RX, TX 

#include <BlynkSimpleSerialBLE.h>

#include <SoftwareSerial.h> 

char auth[] = "YourAuthToken"; 
SoftwareSerial SerialBLE(10, 11); // RX, TX 

#define PIN_UPTIME V0 

BLYNK_READ(PIN_UPTIME)

 { 
 
   Blynk.virtualWrite(PIN_UPTIME, millis() / 1000); 
    
    } 
            
//Measuring Current Using ACS712
 
const int analogchannel = 0; //Connect current sensor with A0 of Arduino

int sensitivity = 66; 
float adcvalue= 0;
int offsetvoltage = 2500; 
double Voltage = 0; //voltage measuring
double ecurrent = 0;// Current measuring
 
void setup() {
 //baud rate
 Serial.begin(9600);//baud rate at which arduino communicates with Laptop/PC
    
SerialBLE.begin(9600);
    
Blynk.begin(SerialBLE, auth);
    
Serial.println("Waiting for connections..."); 
 
}
 
void loop() 
{
 unsigned int temp=0;
 float maxpoint = 0;
 int i=0;
 for(i=0;i<500;i++)
 {
 if(temp = analogRead(analogchannel),temp>maxpoint)
 {
 maxpoint = temp;
 }
 }
 adcvalue = maxpoint; 
 Voltage = (adcvalue / 1024.0) * 5000; // Gets you mV
 ecurrent = ((Voltage - offsetvoltage) / sensitivity);
 ecurrent = ( ecurrent ) / ( sqrt(2) );
 
 Serial.print("\t ecurrent = "); // shows the current  measured 
 
 Blynk.run(); 
 
}