So we can pick and chose perdy colors for holding widgets… OK, that's nice and all, but I was really holding out hope for restoration of a very important feature. But alas, I still cannot fit desired data into desired spaces like I used to…
Smallest font option… and on a tablet with lots of room…

Compared to Android 2.24.0 and prior… and this on a skinny phone at 1/2 the screen width of the above tablet… but yet the text is clearly readable and looks just fine with all the other neighboring scalable text.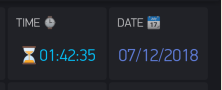 I will be blunt, removing auto scaling text was a really dumb move Blynk!!
Despite much discussion, your seemingly lack of respect for end users preferences is causing my loss of trust in future changes.
One hand giveth; The other taketh away… What is next?
Bring it back please.
---