Hi
I have just started on Blynk and am trying to get my first load cell project done. I am using nodeMCU with HX711 along with a strain gauge load cell and then trying to get it connected to Blynk. While the sketch for load cell is working fine, and the serial monitor is showing the correct weights (screenshot attached with the Blynk commands commented out), connecting and updating the weight in Blynk is posing some challenge. I have set up Blynk and got the Datastream and virtual pin configured. However the Blynk app on the web / mobile is not getting updated.
Another thing I noted is that while the web dashboard for my device is showing online, the console is showing offline.
Will be grateful for any help on this. Am attaching the sketch.
Regards
Somu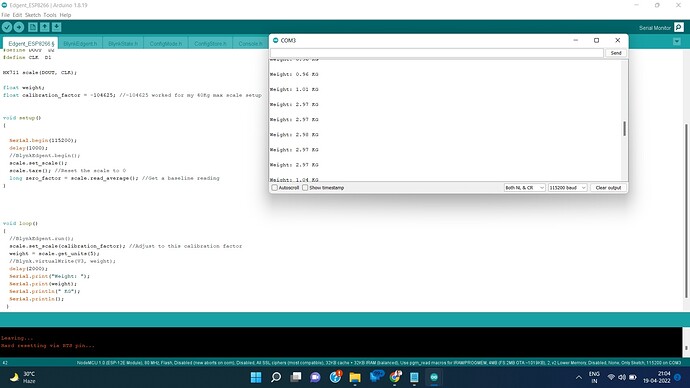 #define BLYNK_TEMPLATE_ID "TMPLg_vAXLvt"
#define BLYNK_DEVICE_NAME "IOT WEIGH SCALE PROJECT"
#define BLYNK_FIRMWARE_VERSION        "0.1.0"
#define BLYNK_PRINT Serial
#define APP_DEBUG


#include "BlynkEdgent.h"
#include "HX711.h"


#define DOUT  D2
#define CLK  D1
 
HX711 scale(DOUT, CLK);
 
float weight;
float calibration_factor = -104625; //-104625 worked for my 40Kg max scale setup 


void setup() 
{
  
  Serial.begin(115200);
  delay(1000);
  BlynkEdgent.begin();
  scale.set_scale();
  scale.tare(); //Reset the scale to 0
  long zero_factor = scale.read_average(); //Get a baseline reading
}
 



void loop() 
{
  BlynkEdgent.run();
  scale.set_scale(calibration_factor); //Adjust to this calibration factor
  weight = scale.get_units(5); 
  Blynk.virtualWrite(V3, weight);
  delay(2000);
  Serial.print("Weight: ");
  Serial.print(weight);
  Serial.println(" KG");
  Serial.println();
 }