Hello! and a very good day

I am using: Arduino mega, ESP8266 Wifi Shield, Ultrasonic Sensors, Line Sensors. The blynk app is on an iphone. Currently on the blynk server.
Here is the code I currently have. Without blynk the code works perfectly. however I would like to do some controlling over the robot which is why I opted for blynk. But, with blynk the sensors can't be read simultaneously. Thus distoring the robot. May I know what can I do? Is there a blynk time function that can run the sensors simultaneously? Or would local server help?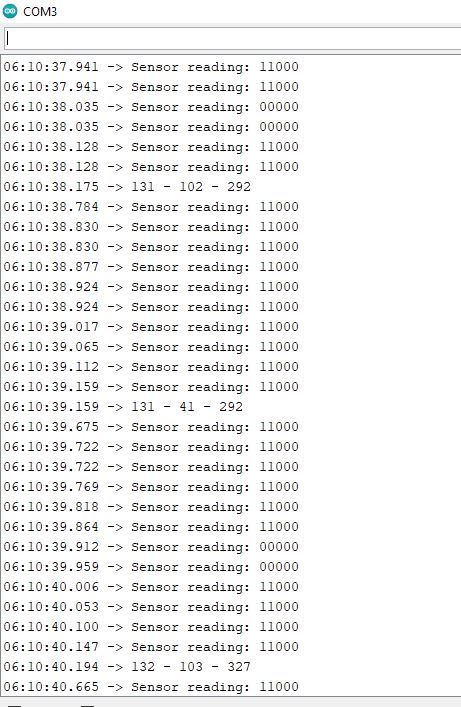 #define BLYNK_PRINT Serial
#include <ESP8266_Lib.h>
#include <BlynkSimpleShieldEsp8266.h>
#include "CytronMotorDriver.h"

// Auth Token in the Blynk App.
char auth[] = "5IBnOryca8MRxGRKl3Q5L-UIi150HjGe";

// WiFi credentials.
char ssid[] = "arisssa_2.4g@unifi";
char pass[] = "qistina2017";

// Software Serial
#include <SoftwareSerial.h>
SoftwareSerial EspSerial(10, 11); // RX, TX

// ESP8266 baud rate:
#define ESP8266_BAUD 9600
ESP8266 wifi(&EspSerial);

// BLYNK Timer
BlynkTimer timer;
int StartDoTimer;

//Pin declaration for SHIELD-2AMOTOR
CytronMD motor1(PWM_DIR, 5, 4);  // PWM 1 = Pin 3, DIR 1 = Pin 4.
CytronMD motor2(PWM_DIR, 6, 7); // PWM 2 = Pin 9, DIR 2 = Pin 10.

//Pin declaration for LSS05
#define LSS05_O1  A1 // Pin A1 is connected to O1 (LSS05)
#define LSS05_O2  A2 // Pin A2 is connected to O2 (LSS05)
#define LSS05_O3  A3 // Pin A3 is connected to O3 (LSS05)
#define LSS05_O4  A4 // Pin A4 is connected to O4 (LSS05)
#define LSS05_O5  A5 // Pin A5 is connected to O5 (LSS05)

// Ultrasonic Pin Declaration
#define Lechopin A14 // echo pin
#define Ltrigpin A15// Trigger pin
#define Mechopin A12 // echo pin
#define Mtrigpin A13// Trigger pin
#define Rechopin A10 // echo pin
#define Rtrigpin A11// Trigger pin
long duration, distance, RightSensor, BackSensor, FrontSensor, LeftSensor;
int setdist = 20;

// BLYNK system
int buttonA;
WidgetLCD lcd(V3);

void setup()
{
  // Debug Console
  Serial.begin (9600);
  EspSerial.begin(ESP8266_BAUD);
  Blynk.begin(auth, wifi, ssid, pass);

  // put your setup code here, to run once:
  //LSS05 Auto-Calibrating Line Sensor Pin Setup
  pinMode(LSS05_O1, INPUT); // Set O1 as input
  pinMode(LSS05_O2, INPUT); // Set O2 as input
  pinMode(LSS05_O3, INPUT); // Set O3 as input
  pinMode(LSS05_O4, INPUT); // Set O4 as input
  pinMode(LSS05_O5, INPUT); // Set O5 as input

  //Ultrasonic Pin Setup
  pinMode (Ltrigpin, OUTPUT);
  pinMode (Lechopin, INPUT);
  pinMode (Mtrigpin, OUTPUT);
  pinMode (Mechopin, INPUT);
  pinMode (Rtrigpin, OUTPUT);
  pinMode (Rechopin, INPUT);

  // Setup a function to be called every HALF second
  StartDoTimer = timer.setInterval(100L, System);
  timer.disable(StartDoTimer); // Turn off StartDoTimer
}

void System()
{
  int sensor = 0;
  sensor = LSS05Reading(); // Reading LSS05 sensor

  Linefollow();

  //Ultrasonic
  SonarSensor(Rtrigpin, Rechopin);
  RightSensor = distance;
  SonarSensor(Ltrigpin, Lechopin);
  LeftSensor = distance;
  SonarSensor(Mtrigpin, Mechopin);
  FrontSensor = distance;

  Serial.print(LeftSensor);
  Serial.print(" - ");
  Serial.print(FrontSensor);
  Serial.print(" - ");
  Serial.println(RightSensor);

  Blynk.virtualWrite(V0, FrontSensor);
  Blynk.virtualWrite(V1, LeftSensor);
  Blynk.virtualWrite(V2, RightSensor);
}

int LSS05Reading()
{
  int LSS05Data = 0;

  LSS05Data = digitalRead(LSS05_O5) +
              (digitalRead(LSS05_O4) * 2) +
              (digitalRead(LSS05_O3) * 4) +
              (digitalRead(LSS05_O2) * 8) +
              (digitalRead(LSS05_O1) * 16);

  Serial.print("Sensor reading: ");
  if (LSS05Data < 0b00010) {
    Serial.print("0000");
  }
  else if (LSS05Data < 0b00100) {
    Serial.print("000");
  }
  else if (LSS05Data < 0b01000) {
    Serial.print("00");
  }
  else if (LSS05Data < 0b10000) {
    Serial.print("0");
  }
  Serial.println(LSS05Data, BIN);

  return LSS05Data;
}

void Linefollow()
{
  int sensor = LSS05Reading();

  if (sensor == 0b01110 ||
      sensor == 0b00100)
  {
    motor1.setSpeed(60);   // Motor 1 runs forward at 50% speed.
    motor2.setSpeed(60);  // Motor 2 runs backward at 50% speed.
  }
  else if (sensor == 0b01100)
  {
    motor1.setSpeed(60);   // Motor 1 runs forward at 50% speed.
    motor2.setSpeed(40);  // Motor 2 runs backward at 50% speed.
  }
  else if (sensor == 0b01000)
  {
    motor1.setSpeed(60);   // Motor 1 runs forward at 50% speed.
    motor2.setSpeed(30);  // Motor 2 runs backward at 50% speed.
  }
  else if (sensor == 0b10000 ||
           sensor == 0b11000 ||
           sensor == 0b11100 ||
           sensor == 0b11110)
  {
    motor1.setSpeed(60);   // Motor 1 runs forward at 50% speed.
    motor2.setSpeed(0);  // Motor 2 runs backward at 50% speed.
  }

  else if (sensor == 0b00110)
  {
    motor1.setSpeed(40);   // Motor 1 runs forward at 50% speed.
    motor2.setSpeed(60);  // Motor 2 runs backward at 50% speed.
  }
  else if (sensor == 0b00010)
  {
    motor1.setSpeed(30);   // Motor 1 runs forward at 50% speed.
    motor2.setSpeed(60);  // Motor 2 runs backward at 50% speed.
  }
  else if (sensor == 0b00001 ||
           sensor == 0b00011 ||
           sensor == 0b00111 ||
           sensor == 0b01111)
  {
    motor1.setSpeed(0);   // Motor 1 runs forward at 50% speed.
    motor2.setSpeed(60);  // Motor 2 runs backward at 50% speed.
  }
}

void SonarSensor(int trigPin, int echoPin)
{
  digitalWrite(trigPin, LOW);
  delayMicroseconds(2);
  digitalWrite(trigPin, HIGH);
  delayMicroseconds(10);
  digitalWrite(trigPin, LOW);
  duration = pulseIn(echoPin, HIGH);
  distance = (duration / 2) / 29.1;
}

void loop()
{
  Blynk.run();
  timer.run();
}

BLYNK_WRITE(V8) // Button A = Location A
{
  int buttonA = param.asInt(); // read button
  if (param.asInt() == 1)
  {
    lcd.clear();
    lcd.print(4, 0, "Heading to");
    lcd.print(4, 1, "Location A");
    Serial.println("V1 is ON");
    timer.enable(StartDoTimer);
  }
  else if (param.asInt() == 0)
  {
    Serial.println("V1 is OFF");
    timer.disable(StartDoTimer);

    motor1.setSpeed(0);   // Motor 1 runs forward at 50% speed.
    motor2.setSpeed(0);  // Motor 2 runs backward at 50% speed.
  }
}