Hi! I am experiencing an issue in the Blynk App on Android. Here are the config details:
• Blynk App version: 2.27.21
• Hardware: independent (any)
• Smartphone OS: Android 9.1 on Huawei P20Lite
• Blynk server: cloud
• Blynk Library version: independent (any)
• Sketch code: independent (any)
Steps taken:
I have installed Blynk App and created several projects.
I have deleted some of them later (e.g. the ones named 'TEST' and 'Sklep').
I have placed Blynk App shortcut at the Android desktop.
When long touching the Blynk App icon, a list of projects is displayed in popup.
And here is the issue: The list contains also projects already deleted - see attached snapshot.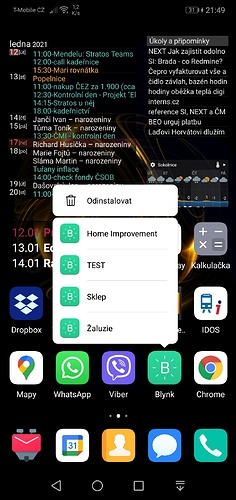 Any chance to get this solved in any later update?
@BlynkAndroidDev
, would you pleas help?
Thanks.
Milan